Business
Tech
How to Choose the Best Medical Billing Service Provider in 2022
Are you looking for the best medical billing service provider in the United States? Do you want to know how to choose a good medical billing company? This article is the answer to your question.
In clear-cut details, we have explained the types of medical billing companies in the United States, the importance of medical billing companies, and the ways to choose the best medical billing service provider. 
This guide will help you discover the best medical billing service provider near you and where to outsource medical billing services in the US with an emphasis on Florida.
If you are a key player in the healthcare sector or own a public healthcare facility or you are a healthcare service provider, you may have encountered the very frustrating and overwhelming challenge of sorting through the necessary paperwork.
These billing tasks require a high level of expertise and it will save you time and cost when you outsource to a medical billing service provider.
What Are Medical Billing Companies?
A medical billing service provider or company handles the issues related to medical billing. Medical billing is a kind of payment practice that involves a healthcare service provider appealing, following up on, and submitting claims to health insurance companies in order to receive payment for services they rendered. This payment practice is predominant in the United State health system and it relates to health insurance.
The job of a medical billing company is to take care of the paperwork involved in this payment practice. They are saddled with the responsibility of handling a large percentage of the healthcare billing job. With a medical billing service provider, healthcare providers, doctors, and other healthcare professionals do not have to worry about resolving medical billing tasks and sorting through patient data.
Related: Five Advantages of Hiring an Interim Power Company
Types of Medical Billing Companies
There are three types of medical billing companies in the United States. They are:
Small-scale Medical Billing Company

Professional Medical Billing Company

Physician Practice Management Company
1. Small-scale Medical Billing Companies
The small-scale medical billing companies are outsourced when you have a small volume of data to take care of or you are a healthcare professional on a tiny budget.
The small-scale billing companies can be outsourced when you need coding/billing help for your medical billing task without posing a strain on your pocket. You already know what kind of data you need help with, so make sure the billing company you are contacting is going to help you with that.
2. Professional Medical Billing Companies
This option is for those who want more value-added services that small-scale billing companies cannot provide. Professional medical billing companies offer more services than small-scale and they equally charge more money.
This is the go-to billing company if you have enough to spare for medical billing services and need better professional billing services.
3. Physician Practice Management Companies
Physician practice management companies run larger and more advanced medical billing services. They are large enterprises with a workforce of up to 200 professionals and are fully equipped with state-of-the-art facilities.
Contacting them would mean you are a healthcare service provider with an enormous database that needs sorting. This is not for medium-scale healthcare professionals.
Related: How to Pick the Best Telemarketing Company for Your Business
3 Importance of Medical Billing Companies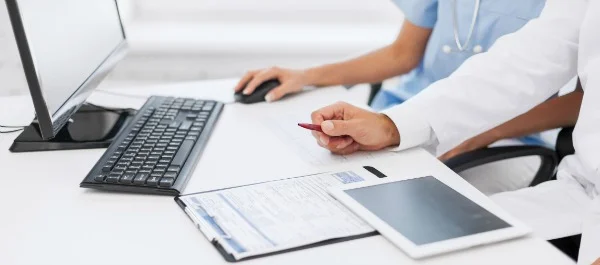 There are a lot of reasons why medical billing companies are important and necessary for you to outsource.
Medical billing companies are experts in the art of medical billing and they offer expert help to healthcare personnel.

Physicians can leverage the help of billing companies to increase their revenue.

The services of medical billing companies help healthcare practitioners save time and improve their productivity.

Accurate data handling
How to Choose a Good Medical Billing Company
Choosing a good medical billing company for your medical billing services should not be given to chance. The task of medical billing must be handled by professionals else you may have your data compromised. This may cost you more than you are actually ready to spend. To fish out the best medical billing companies in the United States, the following points will guide your decision-making process.
1. Company's Experience and Years of Practice
The medical billing company you should choose is one that has been in business for a decent amount of time. A company that has been in the medical billing business for a long time would have garnered enough experience in the art of medical billing. You can trust their wealth of experience to help you deal with your data issues and needs.
2. Good Reputation
Solomon who is considered the wisest man that ever lived said: "A good name is better than riches." The reputation of the company you want to contact for your billing service should be checked and vetted properly.
There are so many fakes in the world of medical billing service providers. So you do not become a victim of deceptive firms and companies. You will need to critically analyze a medical billing company before contacting them.
To do this, you can check customer reviews and ask about the company before you go into partnership with them.
Related: 5 Things You Must Be Doing as a Self-Insured Company
3. Company's Knowledge of ICD-10
Working with a medical billing company that has no knowledge of the International Classification of Disease (ICD) will amount to error-full coding. Ensure that the company has professional knowledge of ICD-10 as that will save you time and money. Properly coded bills will prevent claims from returning to the hospital. 
4. Customer Support
A good medical billing company should be capable of responding to your request promptly and resolving your issues without delay. Look out for the customer support of the billing company and be sure they are highly responsive. You do not want to have your request pending.
5. Assess the Costs of Hiring a Good Medical Billing Company
It is good you want to outsource medical billing service providers but you will not do it at the expense of your pocket. Assess the cost of the service of the medical billing company so you know whether you can afford it or not. Getting the paperwork done while keeping some money for other issues is what you would be looking to achieve.
6. HIPAA Compliant
To be at peace when working with a billing company, make sure the company is an ISO-certified company under the Health Insurance Portability and Accountability (HIPAA). You are sure a company operating under HIPAA will not mismanage confidential patient data.
7. Billing Software
The last thing you should consider before choosing a medical billing company is the software they use to carry out coding and billing. The software used in billing is a key factor in the accomplishment of the work process required.
Be in the know of what software a medical billing service provider uses as it determines their productivity and how fast they can get the job done.
With these steps, you can find out the best medical billing service providers near me, where to outsource medical billing, and also find medical billing companies in Florida.