Amazon has become an industry giant and has simplified the process of where practically anyone can start their own business online. And Jeff Bezos, the founder of Amazon is on his way to becoming the first trillionaire.
You're able to reach an incredible amount of people from all over the world without the complication or cost of trying to set up your own e-commerce website if you have an Amazon store. Perfect, right?
As great as this might sound, it's not as simple as it seems. With so much competition that you're up against, there is some back work you'll want to take care of to optimize your Amazon marketing if you want to see significant results.
If your goal is to increase your sales volume on Amazon Marketplace or you want to make your listing stand out, we recommend you take a look at our 7 action items to add to your to-do list to help bump up your Amazon sales in 2022.
1. Implement Better Keywords
Take some time to research what keywords will work best for you and your product. There are plenty of tools available to help you find the best keywords and improve your SEO on Amazon. An example of such a tool is the Amazon keyword research tool.
In addition to these tools, you can access an Amazon Search Term Report on your Seller Central account dashboard, which will show you all of the data that Amazon has collected about your profile and listings.
Implement the keywords in your titles and on your description pages and it will make a huge difference! When your products on Amazon rank for the right keywords, selling online will be fun.
2. Build Up Reviews
One of the most effective ways to build trust with potential buyers is to have a handful of reviews for your product.
Many customers go straight to the review section to see what others are saying about the product, and this is often a determining factor in whether they take the plunge and make the purchase or they will abandon the shopping cart.
There are many ways to build up reviews on Amazon. One of such methods is to encourage your customers to give their feedback and submit reviews. You can request their feedback via email or by using product inserts when you send out their package.
Ask for a review, as well as a follow up on your social media platforms. While each individual action may seem small, it all adds up to make a significant impact on your business.
Related: Guide to Spotting Organic and Fake Online Business Reviews
3. Optimize Your Amazon Product Images
Helping your customers visualize how the product will work in their lives is a major part of the buying process. Make sure your images have a high resolution and are easy to see.
How to optimize your Amazon product images is to have a healthy mix of lifestyle photos, with a model holding or handling the product, as well as pictures of your product being displayed on a plain white background.
Optimizing your product images with the right title and description is a huge advantage when selling on Amazon.
4. Take Advantage of Advertising Opportunities on Amazon
Amazon has provided a handful of different advertising opportunities for those who would like their product to get increased visibility. There are Amazon Sponsored Product Ads, Amazon Headline Search Ads, and Amazon Product Display Ads.
Amazon Sponsored Ads are perhaps the most effective because they are targeted at people who have already done the research and are ready to make a purchase.
Amazon Headline Search Ads are intended to help potential customers discover and learn more about your product.
And Amazon Product Display Ads appear on competitors' listings to target those searching for similar items and redirect them to your products.
Related: 6 Common Mistakes to Avoid When Selling Products on Amazon
5. Work with Influencers
Another fantastic way to build trust and brand awareness with potential customers is to reach out to and work with influencers. Because influencers are trusted voices, it makes bringing large sales volume to your Amazon store super easy.
Focus on individuals who work within your industry. Send them the product you are selling online and invite them to try it out. If they had a good experience and they believe in the product, ask them to recommend it to their followers.
Using influencers with an incredible number of followers across multiple platforms is a great way to help get your product in front of quite a few potential customers. Because they know their audience more than anymore else, they won't sweat to create engaging content that will make you sell out.
Related: How Influencers Make Money Using Social Media Today
6. Implement Amazon Seller Promotions
Amazon has provided several types of promotions that you can use for your products. Between coupons, buy one get one free opportunity, and free shipping, there are plenty of ways to help nudge customers to make a purchase.
Coupons can be used to target specific individuals with specific items. You will be charged $0.60 every time someone redeems a coupon.
Additionally, a discounted amount will have to be set in order for the promotion to work. Amazon also requires that you set a coupon budget so that the coupon can be redeemed multiple times by various people.
A buy one, get one free promotion on Amazon is based on order quantity or amount spent and has no restrictions on how many you can offer. With the ability to set order conditions for your buyers, this is a great option to go with.
Free shipping is self-explanatory and a great way to nudge potential buyers to take the plunge and make a purchase. Just keep in mind that it is only available for Fulfillment by Merchant items.
7. Use the Buy Box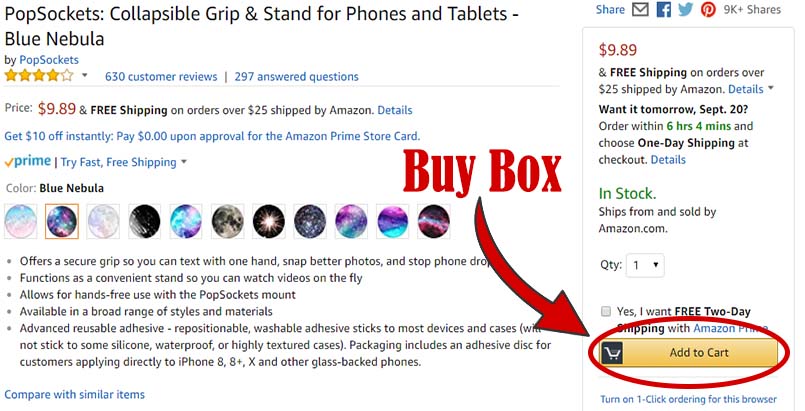 The Amazon Buy Box is the box on the right side of the page that has the "Add to cart" button in it. On each product page, there is only one seller's product that will be featured in the Buy Box.
In order to get your item in the Buy Box, you have to show Amazon that you have the best price for the listed product. If you do this, you will never bother about how to get your item in the Amazon Buy Box.
In order to have the lowest price, we recommend purchasing directly from factories, get trade discounts for bulk purchasing, or using e-packets as your shipping method.
Related: 5 Elements of Effective Marketing Emails
Next Level Amazon Sales
Now that you have your action items, it's time to get to work! Amazon is an incredible platform that provides a ton of opportunities for you to help your business succeed. Taking the necessary steps to help your company stand out among other third-party sellers is just the thing to take your Amazon sales to the next level.