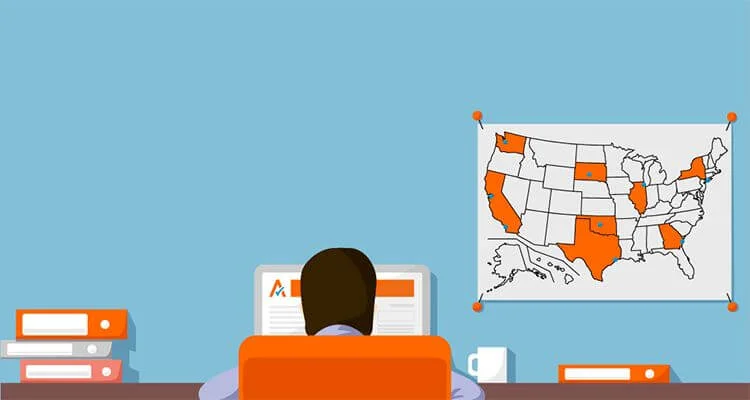 Would you like to discover the most effective inbound sales techniques that will help you become a pro at selling so you can close more deals and add to your bottom line?
Are you sick and tired of cold-calling, cold-emailing and even stopping random people on metro stations to patronize your business?
Maybe you've tried some of the tested and proven outbound sales techniques used by some of the greatest salesmen in your generation but none of what they teach is helping you build your brand and grow your business.
And the worse part is that your prospects are beginning to reject your calls, blacklist your email address and avoid conversation with you.
If you are keen on finding out how to easily apply inbound sales techniques in your business, then this post will be of great help to your quest. But before anything else, let's talk about what inbound sales mean.
What is Inbound Sales?
Unlike the old or traditional form of sales, that is, the "Outbound Sales" which involves cold-pitching people who have never heard about you, trying to introduce yourself and make a connection with the hope of making a sale, inbound sales begins with trying to create a good relationship between the intending seller and a prospect.
And because it's sort of a "win-win" kind of relationship, most prospects will be very eager to respond to your messages, answer your calls and even open your emails than in outbound sales.
The key difference between inbound sales and outbound sales techniques is in the customer's level of interest. In inbound sales, customers already expressed interest in your product or services while in outbound sales, the customer has never heard of you before.
In inbound marketing, prospects reach out to you but in outbound marketing, you reach out to potential prospects.
But here's one thing about the inbound sales technique.
It's a lot more important to build a connection, try and give value and also build trust before making the sales call-in order to counter most, if not all the possible objections they may have in the long run.
Now let's talk about the inbound sales techniques that work every single time.
1. Know Your Audience
You need to find out a lot more about your prospects so you can know the most important information about them, to be able to position yourself as someone who has the solution to their problem.
For example, you need to know where they work, their country of residence, their sex/gender, their deepest desires of concerns, their interests, their pain points and the sort of content they engage with, together with the kind of emails they open the most.
Because, with sufficient knowledge as such, you will be able to know how best to call them in an attention-grabbing way.
You will also be armed with sufficient knowledge to counter their objections and answer any form of question they will likely throw at you while making a sales call.
Also, it will be a lot easier than to establish a connection and position yourself as an expert in that niche who knows their problems and can offer the best help or solution, they need to fix their problems.
Related: Inbound Marketing Checklist: 7 Features of A Productive Campaign
2. Leverage Social Media to Ace Your Game
Don't joke with social media platforms like Facebook and LinkedIn especially if you are trying to sell something to those in the B2B (business-2-business).
Because research has it that about over 67% of their decision-makers depend on social networks as such to guide their decision making.
Searching for information about your potential customers via their social media handles can help you have a genuine and deeper understanding of their company's plight.
Leveraging social media as an inbound sales technique to strategically position or promote your business helps you to understand to an extent about the following:
– How long they've been working in their firm
– The level of exposure they already have in their industry
– The year and sometimes even the month that they started working there and their challenges so far.
Armed with this kind of information, you can almost instantly be able to connect with them and establish a bound-to-be-rewarding relationship, leading to higher chances of closing a sale subsequently.
Related: How Inbound Marketing Can Change the Way You Do Business in 2020
3. Always Build Connection or Rapport at the Beginning
"Nothing beats the first impression," they say.
Now, to make the most of your sales conversations via phone, you need to build an instant rapport at the start of your sales call.
This is to ensure that the prospect you are trying to convert believes and trusts you too.
Now, one of the best ways to get this done is to kind of "sneak or "peep" at what they are doing on or are up to on their social media platforms especially their Facebook and LinkedIn page and profile or timeline like I mentioned in the previous point.
Because of the sort of genuine information and insight it will give you about their background, it's a lot easier for you to connect. Again, when you want to begin a conversation that builds instant rapport, it will be like a guiding compass too.
For example, when you start making a call with a question like; "I read a post you shared on LinkedIn the other day about staff management, is that something you are interested in?"
That is an almost perfect way to build rapport and make the sales convo keep going on.
Now, once you are able to make him/her to kind of believe and trust you, try as much as you can to keep him believing you the more by being on the same page with them.
Because it's on this ground that all things will fall in place.
Related: 6 Client Relationship Strategies That Will Help You Sell More In Less Time
4. Know Where Exactly, Your Prospect Needs Help
This will be more of a complementary point to the first one where I said; "know your audience."
The thing is, you need to know the journey a potential buyer wants to take and the sort of interaction they've been having with your website or chat-bot list.
For example, someone who stops by to read an advertisement for a job opening for graphic designers is obviously facing a different problem, unlike someone who reads a vacancy looking for a video animator.
5. Know What To Give Out
Here's what I mean…
Yes, I know it's because you want to make a sale that you initiate a sales call, in the first place.
But then, one funny thing real-time calls cause is that they have a way of making you skip some important points you would have said due to tension. This will be considered as one of the biggest challenges of outbound sales techniques.
Hence, the need to get into the "shoes" of your potential customers. Think about what they hope to learn from your sales call. And then, think about what value you will give them too.
Often times we chose to write the first sketch of the marketing copy where benefits are listed in bullet points so they can guide us in selecting the choice inbound sales techniques that are guaranteed to work every single time.
6. Let It Be a Dialogue
Let your prospect feel comfortable as if he is talking to you in a face-to-face meeting.
Just take a genuine interest in his life and it will be a lot easier to build rapport, create connection and make him feel comfortable enough to be open to you.
Let him describe the way he feels about his problems, about the remedy he has tried that is not working and where he hopes/wishes to be.
The key lesson in this article is to use the "give-give-take" or the popular "jab-jab right hook" strategy to attract more customers to your business and generate quantum sales.
Be willing to give value first before making an offer, after all, as salespeople, our role is to educate the prospect of his problem and then, help him make a good buying decision he will be happy about.
Any attempt to sell to an undecided mind might result in buyers' remorse. And buyers' remorse can dramatically result to a steady decline in customer retention.
Hence, the need to be the one who is willing to educate their prospects more on a sales call using education-based marketing techniques. Because more trust leads to higher closing rates.
Related: How Do Experts Build Strong Business Relationships?
Conclusion
What you just read is one of the inbound sales best practices any call centre or a serious-minded business owner must utilize to grow their business. You don't have to go anywhere further when you want to master how to handle inbound sales calls than to take a few more time to read this article again until you have assimilated it into your system.