Why is enterprise vulnerability management so important when running a business that operates on the internet? And how are big brand companies implementing vulnerability management process to ensure that nothing blows out of proportion?
These and more you will get to learn in the course of reading this article. But first…
What Exactly is Vulnerability?
The word Vulnerability is a popular notion in the enterprise security domain.
When we mention vulnerability in this scope it refers to a defect in a system that can leave it open to attack.
Vulnerability is any type of weakness that is present in a computer system, computer program code, or in anything that allows information security to be exploited.
Related: The Gains and Loss of Artificial Intelligence in Security
When we talk about vulnerability we are in effect referring: a system weakness, an attacker access to the weakness, and the attacker's ability to exploit the weakness using a tool or technique.
Examples of Vulnerabilities Are:
Bugs
Human error
Weak passwords
Software that is already infected with virus
Missing data encryption
Network misconfiguration
SQL injection
Buffer overflow attack
But Why Do We Need Vulnerability Management Program?
The result of the research made recently about some popular organizations confirmed a lot of positive vibes that vulnerability management program can bring to any organization.
When an establishment have vulnerability management program set-up, they are more prepared to be protected from enterprise security risk and attacks that the presence of vulnerabilities can cause.
Below are some of the security risks that many organizations are exposed to:
Data loss
Identity Theft
Unauthorized network access
Intellectual property theft
From the research made it was discovered that nothing less than 4 billion records, including credit card numbers, home addresses, phone numbers and other highly sensitive information have been exposed through data breaches in 2019 which is a case study year.
Check some data breaches carried out between July – August 2019
14 Million – Hostinger, August 25, 2019
1 Million – Suprema, August 14, 2019
23 Million – CafePress, August 5, 2019
50 Million – Poshmark, August 1, 2019
100 Million – Capital One, July 29, 2019
5 Million – Bulgaria's National Revenue Agency, July 17, 2019
Vulnerability Management vs Vulnerability Assessment
There is usually a misconception of this two which we cannot do without when we discuss about information technology security as an essential part of an organization, but the real deal is that one is on a larger scale compare to the other.
A vulnerability assessment is not just a security scan; rather it's a one-time project with a defined start and end date.
Vulnerability assessment is usually done after a complete review of your enterprise domain and using some tools to identify a variety of potentially exploitable vulnerabilities that you are exposed to in a detailed report.
Related: How to Hack-Proof Your WooCommerce Store with 7 Expert-Recommended Steps
The report will not only list all the detected vulnerabilities, but also provide necessary action and recommendations for remediation. Such report often provides the best vulnerability remediation steps.
It will inform you the level of severity the vulnerability can pose like CRITICAL, HIGH, MEDIUM and LOW
The vulnerability assessment involves more than just a single scan, the security expert will have to scan more than ones to confirm that any vulnerabilities found are removed completely and the last step is the preparation of a final report before the vulnerability assessment ends.
When we talk of vulnerability management we are referring to IT security on a larger scope. It's a full IT security management package and never ends as it's a continuous management circle.
Below is the vulnerability management life cycle that every organization has to follow if they want an attack free enterprise domain.
The steps in the Vulnerability Management Life Cycle above are explained below.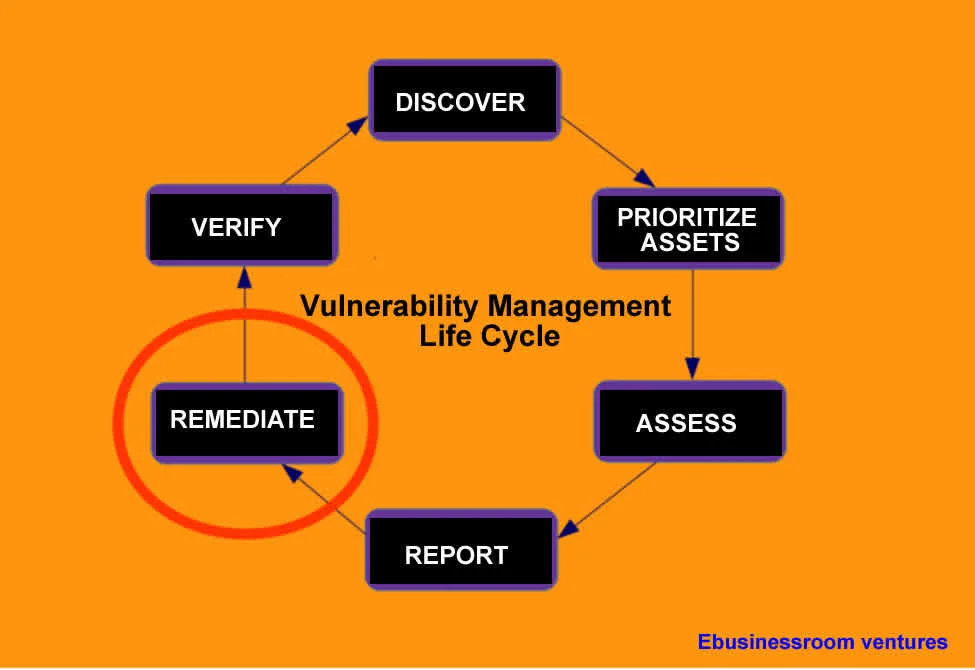 Discover: This stage helps with inventory of all assets across the network and identify some major assets that are very important to the business of an organization. Develop a network baseline. Identify security vulnerabilities on a regular automated schedule.
Prioritize Assets: Categorize assets into groups or business units, and assign a business value to asset groups based on their criticality to your business operation.
Assess: This stage helps with the profiling of the baseline risk so you can eliminate risks based on asset criticality, vulnerability threat, and asset classification.
Report: This stage measure the level of business risk associated with your assets according to your security policies. We document a security plan, monitor suspicious activity, and describe known vulnerabilities.
Remediate: Prioritize and fix vulnerabilities in order according to business risk. Establish controls and demonstrate progress.
Verify: There is need for Verification that threats have been eliminated through follow-up audits.
Related: 7 Common Mistakes That Can Ruin Your Online Business
The benefit of vulnerability management in every organization cannot be underestimated as it protects the entire network through:
Risk assessment
Vulnerability Assessment
Penetration Testing
Patch and Configuration management
Below are some IT security organizations that provides vulnerability management (VM) tools that is currently been used today.
Top Vulnerabilty Management Companies
BeyondTrust
Cimcor
PixAlert
AccessData
Observe IT
CounterTack
Alien Vault
Veracode
In summary, the vulnerability management program is important not just to meet regulatory standards, but also as a basic building block of every security program.
An effective vulnerability management program enables an organization to mitigate these enterprise risks and have a higher confidence in the integrity of their infrastructure and security of their systems and data.