The demon called distraction is the biggest challenge business owners are faced with but unfortunately, majority don't see it.
To these startup founders, they think what they need is more funding when in essence they needed to improve their focus.
Staying committed to your business goals and objectives, cutting off distractions from things that come to steal your attention and improving your focus are very critical to growing your small business.
In this article, you will learn:
Key strategies on how to improve your small business performance
How improving your focus can help in growing your business super-fast
Why lack of funding is not the biggest challenge you are facing right now in your business
What to stop doing in order to improve your focus as a small business owner
How to stay motivated as you run your own business
What companies are doing to help their employees stay focused
Your business will fail if you don't know the most important metrics to focus on. This is why it's advisable that you know exactly what moves the needle in your business so you can pay full attention to it.
Imagine giving 90% of your daily attention to social media when you are not using it for networking nor for generating leads and customers for your business. That's failure calling, right?
Key Strategies for Improving Your Focus in Business
Before we talk about little-known ways you can improve your focus, the first question you need to answer is, "What is your focus?"
What goals and objectives are your business working towards to achieve?
If there's nothing to look forward to, then there will be absolutely nothing to focus on.
Let's say your business goal is to increase your ecommerce website traffic by attracting one million visitors to your online store in 2020 and convert 10% of them to customers with 3% returning as repeat customers…
To achieve that you need to first find out using analytics where majority of your customers with higher purchasing power come from.
Armed with this vital information, you will know where to channel your marketing strategies to without misfiring.
Doing This Will Keep You Motivated in Business
Every effort to improve your focus in business will be in futility if you don't learn how to stay motivated.
Staying motivated as you deploy various strategies to growing your small business will demand that you set a personal vision statement for yourself, move with the right people and do the things that brings you joy.
Stop getting involved in discussions that constantly drains your energy and make you think you are not good enough.
Yes, you've got what it takes to lead the best team in the world. You've got what it takes to run a highly converting marketing campaign. And your business can generate millions of dollars annually if you can stay focused to grow it.
To help employees improve their focus, companies give them incentives, create a conducive working atmosphere for them and inspire them to strive for excellence.
3 Things You Can Do to Improve Your Focus as a Business Owner
If you are serious about improving your focus and growing your small business, here are top 3 things you must start doing today.
1. Maximize Your Time on Social Media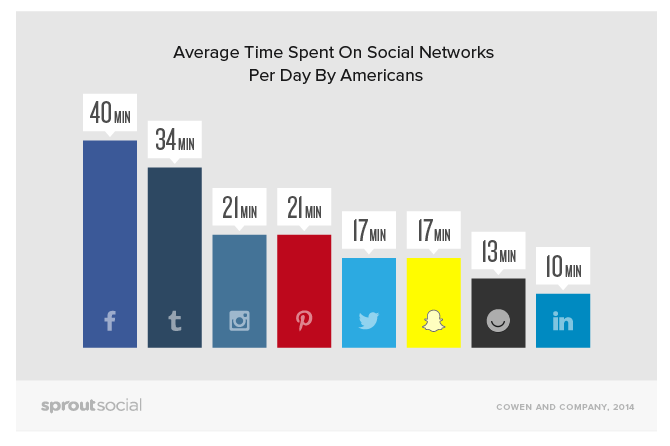 Social media, especially Instagram is a huge distraction to many business owners. In trying to watch "Explore" videos, people spend 2 to 3 hours on a stretch doing something that has absolutely no reflection in their success.
You can't boost your business productivity if you don't learn how to discipline yourself.
According to Sprout Social, the average American spends 40 minutes on Facebook, 17 minutes on Twitter and 21 minutes on Instagram.
Nobody has issue with the amount of time you spend jumping from one social network to another but just be sure it's not the time you should have invested to improve your business performance.
2. Create a To-do List
When you have multiple tasks to carry out in a day, how do you ensure you complete each task without one interfering with the other?
The answer is, create a to-do list.
A to-do list helps you to streamline your day-to-day activities, allotting time to each task and following it up strictly to ensure that nothing was left undone.
Let's assume your goal next week is to write the sales copy of your new product, conduct your audience research and launch a marketing campaign that will generate 1000 fresh leads, you can't achieve that without a strictly followed plan.
Related: Launching a New Product? Here Are 6 Creative Ways to Promote It
Allot time to everything and stick to it. As much as you can, wake up early and start working on your goals starting with the most tasking when you are still full of energy.
An online calendar or app (or timer) can help you stay organized.
3. Design Super-easy Ways to Make Money in Your Business
Whether we like to say it or not, money is a great motivator. Hardly will a core business owner slack in repeatedly doing the exact things that brings money to the business.
Don't wait until everything is in perfect shape before you can start "productifying" your skills.
Focus your energies in unlocking all the money-making codes available in field of business.
Like we said earlier, lack of funding is not the biggest challenge your business is battling with right now but lack of focus.
Money answers to value, value comes only when excellence is maintained and excellence can only be maintained when someone is constantly focused on what they do best.
When you do what we said here, you will be able to improve your focus as a business owner.