Equity Linked Saving Scheme (ELSS) are generally known as the tax-saving mutual funds.
However, the benefits of these funds go well beyond being a tax saving vehicle. Remember the saying – hitting two birds with one stone. ELSS does the same – brings down your tax liabilities and also creates wealth in the long-run.
Read on to know what all you are likely to miss if you do not invest in the Best ELSS Funds.
1. Tax savings
Let us start with the obvious. ELSS Mutual Funds are eligible for tax deduction as per the provisions of Income Tax Act (Section 80C). Investments till the limit of Rs 1.5 lakhs in a year can be claimed by the investors for reducing their tax liabilities.
2. Shorter Lock-in period
All investment instruments which qualify for deduction as per Section 80C come with a compulsory lock-in period. During this period, investors are not allowed to exit the scheme.
Let us look at the lock-in period associated with some of the commonly used tools to claim tax deductions:
| | |
| --- | --- |
| Investment Tool | Lock-In Period |
| Tax-saving Fixed Deposits with banks | 5 Years |
| Public Provident Fund (PPF) | 15 Years (Partial withdrawals permitted from 7th year) |
| National Saving Certificates | 5 Years |
| Life Insurance policies | Minimum 5 years |
| National Pension Scheme | Till retirement age |
Of all the tax-saving investment avenues, ELSS has the shortest lock-in period of only three years.
This truncated lock-in timeframe for ELSS ensures higher liquidity of funds, when compared to other options.
For instance, in case the chosen investment does not perform as per expectations, it provides you the ability to shift to another investment within a relatively shorter time period.
Also, if there is a financial emergency (after the three-year completion mark), one can fall back upon these ELSS Funds.
Related: Preparing for Tax Season Like a Pro
However, it is advised that since ELSS invest majorly in stocks and equities, one should continue with this scheme for at least five to seven years. This helps in optimizing the returns from the investment.
ELSS has the potential to beat inflation and generate higher returns in the long run, as compared to other investment avenues in this category.
3. Equity exposure
First-time investors tend to be uncertain and confused about equity funds and markets.
More often than not, there is a feeling of intimidation. ELSS is a great way to make a debut in the equity ecosystem.
The three-year lock-in period enables investors to adapt to the volatility and dynamism associated with the stock markets.
Fund managers can also guide the investors to customize and make their buying decisions in line with the long-term financial goals.
4. Potential for superior returns
ELSS Funds invest the investors' corpus in stocks/equities in a diversified way. This offers a good chance to the investors who earn returns thereby helping them to undo the negative effects of inflation.
As per a report published by Karvy, ELSS Funds have generated annual average returns at the rate of 15.2% in the last five-year period.
Related: What Happened to the R & D Credit Under Tax Reform?
Fixed Deposits (which also offer tax-saving benefits) on the other hand offer returns in the range of 7% – 8% for a five-year period.
The compounding effect ensures higher yield in case of best ELSS funds. As the potential for returns are higher, compounding can increase the overall return significantly in the long-term.
The other traditional tax-saving options such as post office saving certificates, etc. are more oriented towards providing income instead of wealth-creation in the long-run.
Also, from the perspective of income tax, ELSS again fares better than the other tax-saving alternatives.
For instance, in case of Bank FDs (which are tax-saving), the interest earned gets added to the total income of the investor and attracts tax as per the applicable tax slabs.
5. Multiple Options
There are numerous ELSS Funds available in the market, each with a diverse portfolio. This variety allows the investors to go for a portfolio which is in sync with their long-term financial ambitions and is compatible with their risk appetite.
5.a. Ease of Operation
With ELSS Funds, investors do not need to invest significant effort or resources in monitoring the market or fund performance. It is more on the lines of passive investment and is an auto wealth creating route.
Additionally, the ease of investment makes the whole process simple, quick and high on comfort. The entire investment can be managed through a digital platform. One can complete the eKYC process from the comfort of their home (or any other preferred location).
5.b Flexibility
PPF, tax-saving Bank FDs, NSC – all have a maturity date. ELSS on the other hand, do not have any fixed maturity period. One can continue their investment in these funds for any number of years. This helps investors to link the ELSS investments to a particular financial goal.
Also, unlike some of the other options there are no limitations on the quantum of investment in ELSS Funds. 
For instance, one is not allowed to deposit more than Rs 1.5 Lakhs in PPF in a given financial year. On the other hand, though the tax benefit is limited to Rs 1.5 Lakhs, one can invest as much as they want in ELSS Funds.
5.c. SIP Route
One can choose the SIP route for their ELSS investments. This makes it accessible to more investors as not everyone can afford to invest a lump-sum amount of money.
Additionally, it inculcates a strong sense of financial discipline amongst the investors which in turn gets extended to other financial planning measures as well.
However, one should remember that with the SIP mode, each installment or contribution will complete the lock-in period at a different date.
Here are some of the Best ELSS Funds for your reference: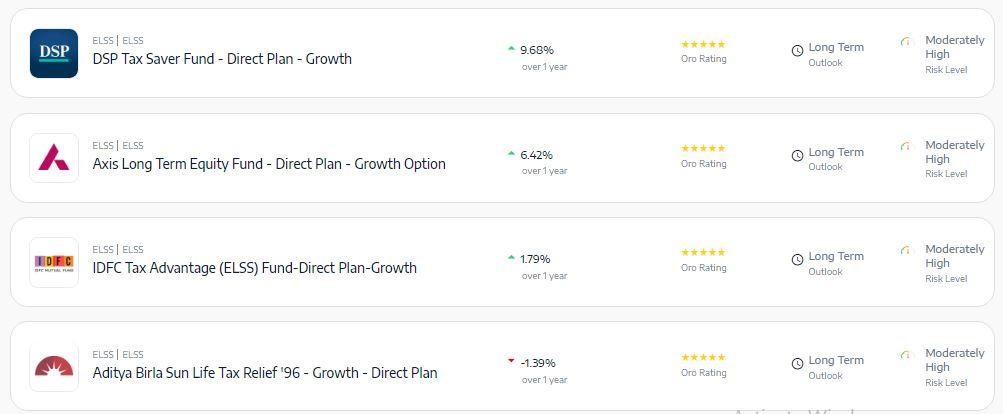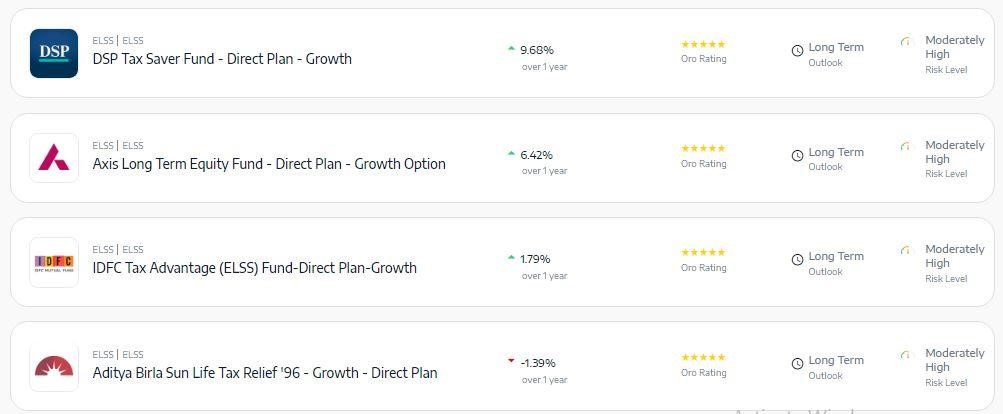 Conclusion
Look at the big picture. Next time you are scouring the market for suitable investments, make sure to evaluate ELSS after taking into account the wide range of benefits associated with them.