Many of today's employees are worried over what happens when a startup is acquired or merged with another company.
The truth is, this is a valid concern worth worrying about.
If you are just starting out in business, startup acquisition is one of your shortest route to prominence and profitability.
When a startup is acquired or approached for an acquisition deal it typically means that the company has a great potential for growth as an independent brand or will be helpful to the buyer.
Having a strong brand potential so much that a big-brand company takes notice of it is a plus on your startup.
However, there's this natural insecurity that sets in when you remember that the company coming to acquire a startup you co-own or work with already have their own team of employees.
While there are cases where employees of an acquired startup are let go, there are also cases where they are merged into the new company or allowed to continue to deploy their services in the previous firm under the new owners.
What Employees Should Expect After a Company Acquisition
When you observe that the company you are working with is undergoing an acquisition, employees of such startup are advised to remain calm.
While it seems okay to worry a little bit about what becomes your fate as an employee in a start-up undergoing acquisition or merger, the best thing you can do is to still maintain your peace.
According to statistics, this tension among employees is valid because 30% of workers are considered redundant after an acquisition when both companies are in the same industry.
Related: 5 Tips for New Employee Onboarding
This statistics notwithstanding, it doesn't necessarily mean that employees of both companies will hit the unemployment street soon, except the workloads are not much or are things that can be automated.
What Happens Immediately After a Startup Acquisition?
Immediately it is announced that a startup is about to be acquired, a period of silence sets in. This is typical of what happened when Otedola of Forte Oil announced that he was about to sell of his shares in the company to move into other business.
Within this period of silence, it may look like nothing is happening, but there's so much hard work taking place behind the scenes. This is the period that the buyer digs into the financial record of the startup he wants to purchase before making his decision.
In some case the buyers also schedule a meeting with employees of the firm they want to acquire to explore their capacities and observe their understanding of how things work in the organization.
How Startup Acquisition Will Affect Buyers
Employee acquisition is never what forms the top-of-mind of any company that buys another. The acquiring company is majorly focused on growing its portfolio, not carrying the employees along.
If there's need to cut down the company's expenses, the first thing the acquiring company looks at is cutting down employees' payroll.
The reason most acquiring company do this is because they are constantly trying to avoid waste. Two businesses with fully staffed human resource teams do not need more hands when they merge as they may be a collision of job responsibility.
In situations like this, underperforming workers are laid off.
The Different Buyout Options and How They Work
There are different buyout options and how they work are completely different.
We have seen cases where one business buys another to grow their financial portfolio and expand their business territory. In situations like that the purchased startup are allowed to continue to operate as it is.
While in some other cases, they merge certain things. This happens a lot more when they purchasing firm is looking into leveraging only on one part of the acquired firm. A typical example is leveraging the expertise of an established tech team to grow another business.
First Thing Employees Must Do When the Company They Work with is Acquired
If there will be need for a layoff when a startup is acquired by a big-brand company, it's mainly redundant employees that will be laid off.
Redundant employees often know themselves, so they will likely not be surprised to get a dismissal letter. But if you'd like to be carried along when the company you are working for is acquired, you must be up and doing. You do it by demonstrating your expertise without reservation. Constantly look out for ways to help the company save cost.
If you have some specialized skills that make you outstanding, this is the best time to unleash it.
How Stock Options Adjust After an Acquisition and Merger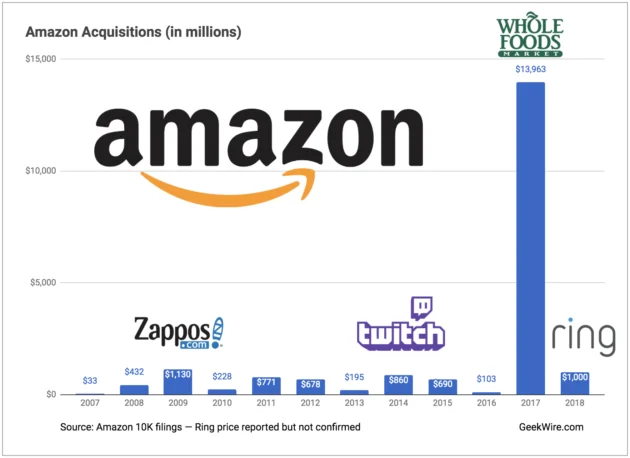 Company acquisition brings more questions for employees who hold stock options with the acquired company.
Whenever stock options are issued, they usually come with a vesting schedule, which makes it mandatory for you to stay with the company for a specific amount of time to earn the right to purchase those shares.
Related: Facebook Stock Drop: Why Investors Should Not Panic
If an employee holds options, that means those shares aren't vested yet, so the acquirer could cancel the options or speed up the vesting process so that employees are paid and the debt is settled.
3 Warning Signs That a Layoff is Looming
If you are working with a firm that is currently undergoing acquisition or you heard rumours of acquisition hitting anytime soon, here are 3 warning signs that a layoff is coming with it.
Related: 8 Warning Signs It's Time to Quit Your Business
There's a bunch of redundant staff unreasonably increasing the company's payroll expenses. Nobody tolerates waste, so they will do everything to cut it off.
There's a collision of job responsibilities in the acquired startup with the purchasing company. No need to have two persons on a role that can be handled by one person.
The manager of a particular unit is laid off. While this does hold true in all cases, however, it's been noticed time and time again that when the manager of a particular unit is laid off after an acquisition or merger, everyone working in the same unit are also laid off to avoid.