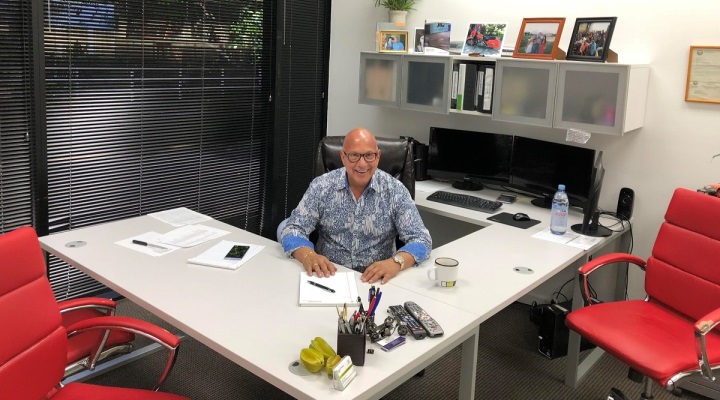 Gregory Fishman is the CEO and President of Resolvly.
Resolvly is a company that specializes in debt resolution for families and individuals.
As an industry leader in debt repair, Resolvly treats all customers like family and helps them during their trying times. With personal help and support for those in need of financial assistance, the company and their legal team, GM Law Firm, handles unsecured debts and private student loans for new and existing customers.
One of the outstanding Resolvly reviews is their believe in helping people grow with the right plans for financial freedom and solace.
Background History of Gregory Fishman
Resolvly is the brainchild of Mr. Gregory Fishman who started his professional career at the age of 19. In fact, Greg worked as the National Director of Sales for a petrochemical manufacturing company.
Gregory Fishman quickly rose through the ranks to become VP of National Interchem after just one year with the company. Fishman worked for National Interchem for over 25 years before buying the business from Art Saltz.
He later sold the business and moved with his three children to Florida. Greg managed a local car dealership which is predicted to grow to become the number one car venue for sales across the nation.
While at the dealership, Fishman befriended someone who specialized in helping people become debt-free. Coming from a challenging childhood, Gregory understood how hard it was to deal with debt and lack of finances.
This prompted Fishman to rethink his line of work while propelling him into the debt relief industry. In fact, Greg went to financial analyst school and secured his Series 7 license. This opened the doors to a new position at GHS Solutions — a debt-relief agency.
Related: The Top 55 Social Media Marketing Influencers To Follow In 2019
Greg found immense success in helping families and individuals secure financial freedom and relief. His success sparked the idea of opening up his own company. This led to the creation of Resolvly in Boca Raton, Florida, in 2014.
The Idea Behind Resolvly?
Resolvly was created to help people secure debt freedom and solace. After seeing so many bad and unscrupulous things in the debt relief industry, Greg Fishman sought out to create an honest company that genuinely believed in helping and empowering people from all walks of life.
Today, Greg and his team has continued to help folks with trusted and reputable financial help. With debt resolution, Fishman drew on his experiences growing up in a somewhat impoverished household.
He also wanted to create a company that not only helped people with debt relief but also removed their fears and anxiety.
Resolvly is now one of the top debt freedom companies in United States. With stellar industry ratings and client reviews, the company continues to grow and expand across all levels and sectors.
This is mainly due to the honesty, integrity, and commitment to excellence Gregory Fishman puts in on any given workday. In fact, he is up at 5 a.m. each morning with a rigid schedule of routine that keeps him on track and focused.
After listening to the news with his morning cup of java, Greg takes his dog out for a walk then hit the gym. After his fitness regimen for the day is done, he takes all that positive energy into the office.
A Day at Resolvly
The day starts with a staff meeting at 10 a.m., which puts everyone on the same page towards achieving company directives and objectives.
Greg and his team take care of upcoming events, as well as prepare for new and innovative things launching at the business. They also go through receivable and payables, while taking care of all accounts for accuracy, performance, and fulfillment.
After responding to client e-mails and correspondence, Gregory Fishman makes sure his vendors and team are all on point. It's this passion and commitment that makes Resolvly a great place to work and grow.
Similarly, the company stays abreast of all the latest industry trends and developments. This enables them to offer real-time solutions and results for families and individuals overwhelmed with insurmountable debt.
Let Resolvly Resolve Your Debt Problems Today
From debt settlement and debt consolidation to debt validation, Resolvly handles all types of debt-related problems and issues.
They also keep the client in the loop with real, meaningful and honest facts and information from start to finish. The company never misleads any clients and is always there to handle any problems, questions or concerns.
To learn how Resolvly can solve your debt issues, simply contact them today at (855) — 404-0034.