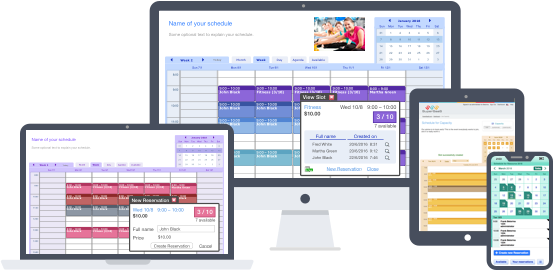 What are some of the best free scheduling software programs that can literally work in any company irrespective of how small or big they are? Crash it!
We live in an era where time has become a precious commodity, and there isn't seem to be enough time in one day to accomplish what needs to be done. Thus, the need to schedule a time to make sure that everything that's supposed to be important gets done at the right time.
There are many scheduling software out in the market – best employee scheduling software, customer scheduling software, but in this article, we'll be discussing a specific type of scheduling software – the project management scheduling software.
This type of software is used by time-sensitive industries like aerospace, military, defense, and the construction industry to name a few.
Project Management Scheduling Software: Definition
A project management scheduling software is a used to describe a group of software programs that were created by both big software companies as well as niche players that are used to systematize, allocate and forecast work on projects.
The software can be stand alone, or can be a module of bigger project management program like the ones found in, a construction project management scheduling software.
Programs like these look very high tech, but the truth is that these programs have been around since the 60's when researchers have begun to use algorithms and software to make improvements in scheduling.
Importance of Scheduling
There are industries that are time sensitive and not finishing the project on time can have disastrous consequences.
One example is the aerospace industry where satellites and rockets that need to meet up with other satellites in outer space because they're carrying supplies and fuel needs to launch at a specific time otherwise, they'd miss their target and cause an even bigger problem.
Another example of the importance of scheduling is found in the construction industry where project delays can cause a lot of money, lawsuits and worse loss of reputation to the construction firm that's handling the project.
READ: The Definitive Guide to Skyrocketing Your Project Management Skills
A modern day example of this is the unopened Berlin Brandenburg Airport. The airport was set to open in 2012, but because of bad scheduling and a host of other unfortunate circumstances, it is now scheduled to open sometime the year 2020. The initial budget for the airport's construction was 2 Billion Euros, but due to delays, the cost now rose to 7.3 Billion Euros.
PERT, Gantt, and CPM
At this point, we have established that proper scheduling is of tantamount importance to make sure that projects that are time sensitive get finished on time.
In scheduling whether you use software, or you do it manually, there are methods that are used to make sure that proper allocation of time and resources are made.
There are many scheduling methods that are used both by schedules and software, but the three most popular ones are:
PERT Method
Gantt Charts
CRM (Critical Path Method)
Let's discuss the methods very briefly
PERT Method
PERT is short for Program Evaluation Review Technique. It was developed by the U.S Navy during the 1950s mainly to manage the Polaris submarine missile program.
PERT method is used to schedule, organize and coordinate projects in which the amount of time needed to complete the task is not defined.
This technique identifies the least amount of time that's needed to complete a certain job, and the smallest amount of time needed to bring the whole project into completion. The PERT method is recommended for projects that require research and development.
Gantt Charts
The Gantt chart was named after its inventor – Henry Laurence Gantt and was first used in projects like the Hoover Dam in the 1930s as well as the construction of the US interstate highway network in the 1950s.
READ: How Entrepreneurs Are Using Artificial Intelligence To Fund Real Estate Projects in USA
At its simplest, the Gantt chart is a bar chart that shows all the tasks needed to be done, the length of time needed, as well as overlaps with other tasks if there are any.
Critical Path Method
The Critical Path Method was created in the late 1950s, more or less the same time as the PERT Method was conceptualized. In fact, the term Critical Path Method was coined up by the members of the PERT team.
The Critical Path Method is a processing algorithm that's used to plan, schedule, coordinate and regulate the tasks of a certain project.
CPM operates on an assumption that the tasks in a project are not changing. It's used to calculate the earliest and tardiest time possible for any activity involved in a certain activity.
The CPM algorithm distinguishes what is called the critical and non-critical activities in the project.
The identification of the critical activities is crucial because if any of the activities that are labeled 'critical' are delayed, then it can cause the entire project to be delayed. And thus, this is the reason why it is aptly called the Critical Path Method.
The Cost of Using Scheduling Software Programs
At this point, we've established the importance of having a good project schedule as well as familiarize ourselves with the different scheduling techniques.
But despite this, a lot of firms especially the small and medium ones are reluctant to use scheduling software.
One of the main things that prevent small and medium firms from using scheduling software programs is cost.
Scheduling programs, especially those that run complicated scheduling algorithms are expensive and can run anywhere from the range of $500 to thousands of dollars every month- a cost that can be expensive especially to firms that are just starting out.
The good news is that there are free and open sourced project scheduling software out there in the market that is available to anybody and everybody that want to use it. But, just because these programs are free and open source doesn't mean that they are inferior to their counterparts that have a subscription fee.
Let's explore some of these free project scheduling software that's available in the market.
Open Sourced and Free Project Scheduling Software
Agantty
Agantty is an ideal project scheduling software for small and medium-sized businesses that want a solution that's above task management, but don't need the functionalities of a more sophisticated scheduling solution offers reporting and resource allocation management.
Agantty is free to use in every sense of the word. This means that there are no hidden monthly charges or even options to upgrade. Agantty allows users to have access to unlimited tasks, projects, and users. It also has the ability to allow the administrator to set individual user and team authorization.
This software has a Gantt chart view which allows users to create and sort tasks. It also has a dashboard where individual users can see the tasks that are given to them.
The only downside to this software solution is that you can't have external users join the existing team, and every user has to open an account with the software vendor. As of this writing, Agantty doesn't offer mobile apps, so it can't be taken on the go.
Asana
Asana comes in both a free and paid version and it offers basic functions like file sharing, management of tasks, and group collaboration.
The free version of this scheduling software allows the users to generate unlimited projects and tasks but to a limit of 15 participants.
Functionalities, like creating private projects and creating task dependencies, are available only with the paid version.
Asana can easily integrate with third-party communication, reporting, and tracking tools.
The challenge in using Asana is that its interface is not user-friendly, and novice users might find it a bit too text heavy and not easily navigable.
READ: How SL Account Management Helps Post-Secondary Graduates
The paid version is available at a subscription of $11.99 per month, per user.
Airtable
Airtable, like Asana, comes in both paid and free version. Its free version allows users to create unlimited 'bases' (projects) and up to a maximum of 1200 records ( tasks) per project.
Team members are able to attach files up to a maximum of 2GB in size per project, and also allows users to create comments on records.
This software is designed similar to a spreadsheet where it allows users to build a database. These databases contain information like details of the project, information about clients as well as finances.
Airtable is customizable and offers options on how to view tasks: as lists on spreadsheets, date fields on calendars or cards in Kanban boards.
Like Asana, Airtable might be a bit of challenge to learn for new users, and there are also limitations on how it can be used in its mobile version.
Airtable offers its users to upgrade at the price of $12 per user/ month.
Easynote
Easynote is a basic scheduling solution that offers both free and paid options. The free plans allow users access to unlimited projects, tasks and 1 GB of file storage per user.
However free users might find that functionality is limited where even if it allows for unlimited projects and tasks, there is a need to upgrade should you want to add a project deadline.
Easynote boasts of excellent customer service even for free accounts. It guarantees a 48 hour response time to service inquiries via email – something that's hard to find in free software programs. It also has a knowledge base where users can search for easily solvable issues.
At the moment, the mobile version is only available for Andriod which can prove to be a problem for people who have IOS and want to try the software.
Easynote is available for upgrade at $5 per month for Business users, and $10 per month for extended users.