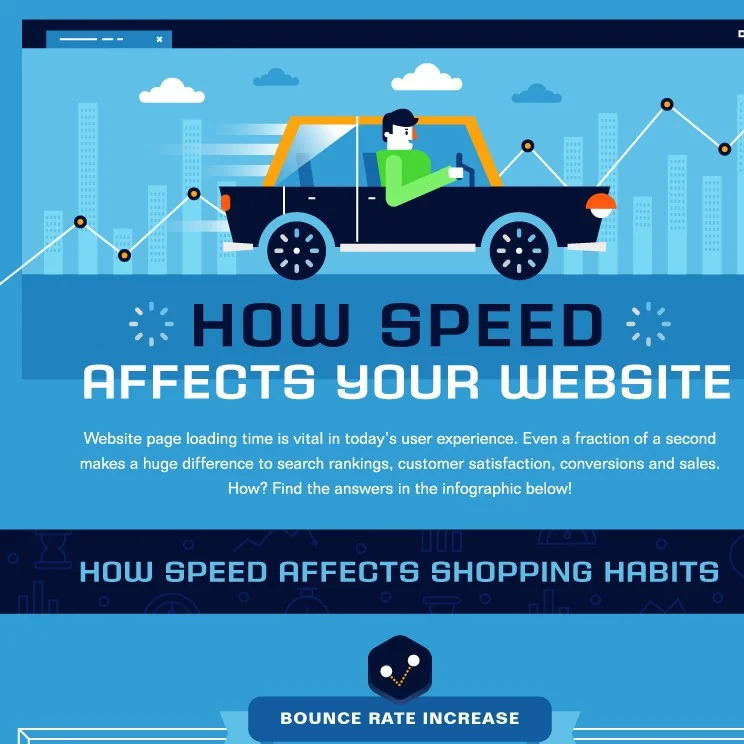 It's a sad fact mobile sites are lagging behind desktop ones. Mobile websites get a higher bounce rate, fewer page views, and less time spend on site. Despite this, 52% of all browsing and 30% of online shopping is done on mobile devices.
The question is why mobile websites do worse than desktop ones. People seem to prefer to browse on mobile devices, and a lot of them even use them for shopping, so why do mobile sites get poorer results?
A website speed infographic by HostingTribunal contains the answer. Stats show most users expect a website to load in under 3 seconds. The average load time for mobile websites, however, is 22 seconds. It's easy to see why a website that slow performs poorly.
To help you avoid this, we have prepared several tips to keep your mobile load speed in check. Do these and you won't lose any traffic unnecessarily.
Related: 5 Rock-Solid Ways You Can Optimize Your Site for Mobile to Boost Traffic
The first thing to consider is the number of page elements. More elements means the web page is larger and slower to send. Moreover, each page element requires an HTTP request-response sequence which takes time and server resources.
All of this increases page load time. That's why the number of page elements is among the greatest predictors of conversion rate.
Identify and remove all unnecessary page elements. A simpler page is often better than a complicated one and is definitely much faster.
Related: 5 Conversion Elements that Can Turn Your Web Visitors into Paying Customers
Images are one particular type of element you should keep an eye on when managing your mobile site. Unoptimized images are bad in and of themselves. However, having too many images can weigh down a page even if they are well-optimized.
To avoid any issues, optimize images for mobile browsing. Mobile devices have much smaller screens that allow for smaller image size.
Also, don't use too many images. Only include the essential ones. Your pages will be much lighter and load much faster.
You can also try minifying your code. Minifying means removing anything unnecessary from the code itself. It makes your site lighter and more mobile-friendly.
More precisely, code doesn't have to have whitespace, comments, line breaks, etc. These things only make it simpler for humans to read. You can remove them and your website will work fine. In fact, it will be less bulky and will load faster. 47% of consumers expect a page to load within 2 seconds.
Related: Mobile Marketing: 5 Things You Were Not Told about It
You can minify the code manually or use a minification tool. Remember to keep a backup of your code before minifying in case you need to change something later.
The infographic below is a great source of info on how speed works and how it predicts website success. Make sure to read it before optimizing your website.

These are some of the common issues with mobile websites and the things you can do to fix them. If you haven't optimized these aspects of your website, it's worth looking into. Minify code, reduce page elements and image use and you will notice the results instantly.