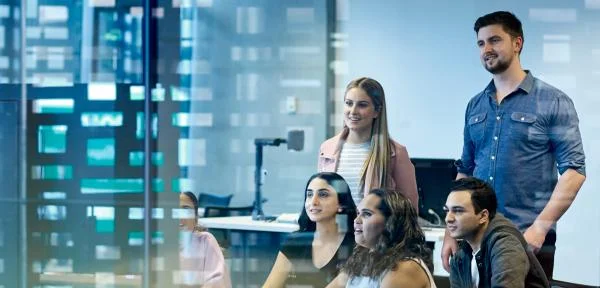 Are there compelling reasons to consider taking online IT lessons whether as a student or a working professional?
Have you personally considered taking online IT lessons as a student?
Maybe you've not. But can we tell you something? Getting certified as an IT professional keeps the doors wide open. It brings in more opportunities and in turn boosts your earning potential.
IT is a very important part of the modern age, and when it comes to businesses, knowledge of computers, digital devices and networks can take you a long way in terms of your career, your responsibilities and the benefits involved with these considerations.
However, while you're working, it can be hard to find the time to go to school or university to learn the skills you need. Fortunately, one of the most preferred alternatives is to take an online IT course and lessons in order to gain the information you need.
Still on the fence? Today, we're going to detail four of the most important and most beneficial reasons why taking online IT lessons could be exactly what you're looking for.
Why Take Online IT Lessons?
1. Complete Control Over Your Learning Path
When taking an online course like our Blogging Business Masterclass, you'll be able to choose what kind of topic and subject you want to specialize in.
When you attend college or a university, you have to learn everything they tell you to learn in order to graduate, but online, the choice is yours when it comes to what you want to learn.
Whether you want to learn about networking, server-side components, how to use certain programs and software packages, coding, hardware, repairs, or anything in between, online learning courses give you complete freedom on what you want to do.
2. Affordable Education
Compared with learning an IT course in a physical building with lecturers, online courses are far more affordable due to the fact they have fewer overheads. This means it's much more affordable for you and many people on different wages and income can afford to partake in the course.
Since online courses allow you to work at your own pace, you'll also be able to keep working at the job you're in and learn in your free time, rather than having to stick and attend strict classroom lessons. This means you can keep earning money while you learn.
A boat load of our students who registered to learn how to make money on JVZoo are doing it from the comfort of their homes and at their own pace. Interestingly, some of them are already earning money while they learn alongside.
3. Networking Opportunities
While you can work through online IT training for beginners and advanced students on your own, thanks to community pages and social media it's, easy to meet other people who are learning on the same course. This is a great opportunity to meet like-minded people.
The importance of networking can never be understated, and you never know where or who an opportunity will come from. Always keep your eyes peeled and don't be afraid to meet new people.
This might not sound like a big deal at the moment but the basic truth is that the opportunities that come with networking with people are enough reasons you should consider taking online IT lessons.
4. Better Career Options
With an online IT course qualification under your belt, you'll gain a huge amount of freedom when it comes to your career as myriad of job opportunities awaits you in the IT industry.
Of course, if you want to follow an IT path, an IT qualification such is the right way to go about increasing your chances of being hired.
On the other hand, if you want more responsibilities in your current career, you're seeking out a promotion, or you simply want to become more valuable to the company, getting a qualification can be one of the best things you can do.
Conclusion
While these scratch the surface of what an IT qualification can do for you, these are more than enough reasons as to why an online course could be exactly what you're looking for. Don't forget to research what's best for, and then get ready for the next step up the career ladder. Lest we forget… Even if you are not a student, taking online IT lessons will still be pivotal in your career growth.