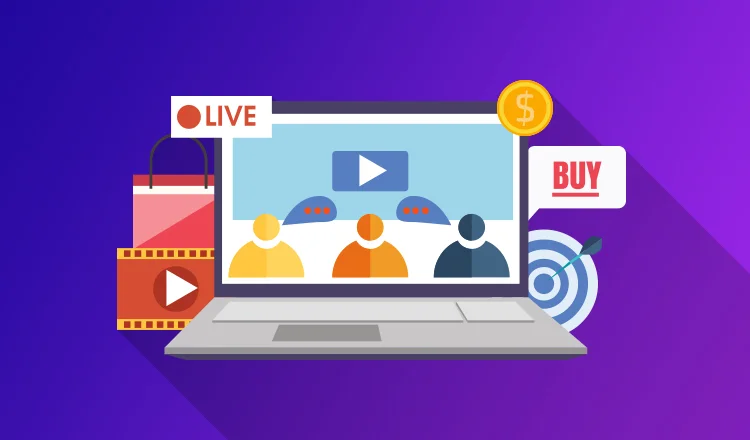 Have you heard of live streamed shopping before?
Live videos have taken ecommerce to a whole new level. Selling products in videos was considered a novel idea a few years ago, but now it has become mainstream thanks to the ease of internet use.
Now ecommerce entrepreneurs are using live streamed shopping to showcase their products in real time and get more sales.
Not only has this livestream become an essential tool for engaging customers, but they also promote transparency, prompt communication, and live bidding.
In this article, you will learn how you can tap into this ecom trend and take your ecommerce store to new heights.
What is Live Streaming?
Live Streaming is the real-time broadcast to an audience over the internet. You only need a smartphone and an internet connection to start live streaming. Top social media platforms such as Facebook, Twitter, and YouTube, all allow live streaming.
How to Get More Customers by Live Streaming?
Live streaming is pretty similar to real-world shopping. You are interacting with the shopkeeper through comments and reactions. You can directly bid your price and if the shopkeeper likes it, he/she will sell you the product.
Moreover, as you are watching the product in real time, you have become aware of how it functions. This means there are more chances of you purchasing the product. It uses the demonstration marketing.
Almost all live videos are made on social media platforms. But social media marketers can promote them further through group promotions. This way the video will get more eyeballs and thus more sales.
There are tons of ways you can promote your business even when on a low budget and still get amazing result.
Ways to Promote Your Products through Live Videos
Live streaming has become a lucrative way to get more eyeballs on your hot selling dropshipping products. It is profitable for all including dropshippers, ecommerce store owners, and even affiliate marketers.
So, now that you know what live videos are, let's find ways that can help you promote products through live videos.
Product Demos
Sometimes shoppers don't know the usefulness of a product until they see it in action. That's what happens with many dropshipping products available on AliExpress. Very few people buy them. The reason is that most people don't know their true worth as AliExpress products are rarely shown in action.
Live videos allow store owners to promote their products to multiple users at once from the comfort of their office. They can even promote these products to the viewers who are not even interested in buying them.
For example, Koozie rocket was able to sell a year worth of supply to the users through their live videos. Before the video, no one was interested in buying Koozie rockets. They thought it had no value.
Product Launch
Just like product demonstrations, live videos are a great way to introduce new products to the market.
Let's say you have a new line of tropical dresses available. What will you do to make awareness about it?
Simply make a live video and promote it in groups. More people will be interested in seeing your product line if they get the live video.
Image Source: Twitter
Maybe they will even order it directly through the link. They can also ask questions and get replies to them instantly.
When Vibram first introduced the Arctic Grip sole technology. It introduced them through a Facebook Live video, in which it described how these shoes will look and what their features are.
How-to Tutorials
Another way to sell more products through social media live videos is by promoting how-to tutorial videos.
Let's say you conduct a webinar on ecommerce hosting for store owners. Your audience will not only learn about the topic but will be able to ask direct questions from the experts.
Similarly, as a store owner, you can start a complete series of tutorial providing benefits of a product that you sell. This will help raise awareness about its users and will eventually lead to more sales.
There are a dozen YouTube channels now conducting live tutorial to promote their products. The Vegan couple often do live videos to promote their brand and to have a quick live chat with their fans.
Brand Building Activities
Live videos are also a great way to build and improve the image of the brand. Many online shoppers are reluctant to shop on new ecommerce stores. But when they can directly engage with them on social media and through emails, they start trusting them.
Live videos expedite this whole process of changing customer perception about new stores.
It is ideal for local charities because through the video streams they will not only tell but show their activities to the users.
Similarly, businesses can also show 'behind the scenes' clips of their employees, enjoying or partying. This type of live streaming not only improves trust among customers and clients, but it also shows the culture of each business.
Live Auctions
Most ecommerce companies have now started live auctions on Facebook and other social media platforms. They are doing live auctions on almost all sellable items including electronics, toys, and even real estate.
The concept first started in Australia by Domain Facebook group. The team behind the auction said, "We were already covering auctions with a video team, so the progression seemed natural."
What Should Ecommerce Stores Livestream?
A simple answer is ANYTHING noteworthy. There are many things ecommerce stores can livestream.
Let's narrow it down a little.
Remarkable Stories
Let's say it is your customer's birthday. You send a special gift to the customer and record the whole event live. It will be a memorable experience not only for the customer but most of your followers will see it live as well. This will make a great in-store experience for your customers.
Memorable Events
Let's say you are celebrating Black Friday. You can stream it live and let your viewers engage with you. This way most of your viewers will know what deals are available and there are chances that some of them will become your customers.
Something Unique
Finally, you can livestream something unique. Something that doesn't relate to selling or your brand. Let's say your CEO just saved a new dog off the street. That is something that you can livestream.
It not only engages the viewers but it will touch their hearts.
Conclusion
So are you eager to turn live stream demonstrations into conversions? These foolproof ways are going to be your best friend. Live streamed shopping is rocking and it is high time you introduced it into your ecommerce business.
Want to add something to this article? Comment below.