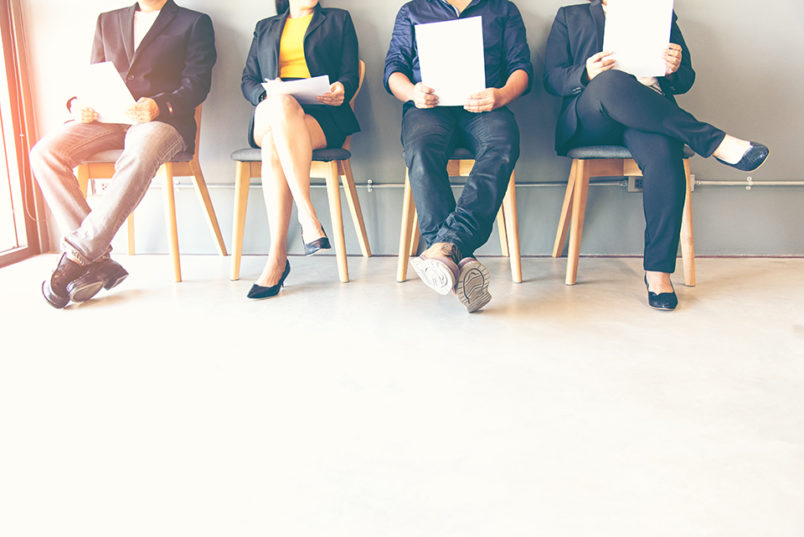 "Is there a way one can make her job application letter stand out from the crowd?" a lot of people have asked. The answer is yes!
Whether you've just finished school and you're ready to hit the job market, or you've been part of the workforce for a while now and you're looking to change positions, the first step in applying to a job is having a killer application letter, also sometimes called a cover letter.
The best way to stand out from the crowd of people applying for jobs is to have an excellent job application letter.
Before going on to apply for that next job, we recommend you take a look at these eight tips that can help you write that amazing application letter that will, hopefully, lead to your dream job.
Job Application Letter Tip #1: Know the Purpose of Your Application Letter Before Writing It
This tip might seem like a no-brainer – you're writing this application letter to get the job and that is its purpose.
But an application letter isn't just about listing your skills and experience and hoping you get the job. If that's all an application letter was, it wouldn't be required – your resume does all of that.
The purpose of an application letter is to see how well you can communicate, what kind of soft skills (like communication) you have, and to see if you demonstrate things like enthusiasm for the job.
Job Application Letter Tip #2: Don't Just Summarize What's on Your Resume
Adding to what's above, don't just summarize what's in your resume. Your application letter should look beyond your job history and highlight the ways in which you are well suited for the job you are applying for.
Are they looking for someone with strong organizational skills? Be sure to talk about a project you worked on where your organizational skills saved the day.
Do they want someone who's an excellent market researcher? Talk about your passion for research and experience you've had in which that passion led to an excellent outcome at work or school.
Job Application Letter Tip #3: Give Solid, Real-life Examples
Job application letters are about showing, not telling. Don't say you're a good organizer or that you like research – show the person hiring solid, concrete, real-life examples of when you've used these skills and the positive outcomes of these experiences. I
f you don't have any experience to go along with a skill, that's okay – pick another skill.
Your job application letter is all about showing how you can do the job but that doesn't mean you have to have every skill the company is looking for.
Focus on the professional skillsets you have examples for and make sure you highlight those in your application letter.
Job Application Letter Tip #4: Keep Your Letter Conversational
This is not only a letter to your potential workplace and the potential person hiring you, but to your potential coworkers.
You want to think of this letter as a one-sided conversation with the person doing the hiring or the hiring team and talk to them as if they are your peers – and anticipate any questions or comments they might have and be sure to include that in what you write.
Just a few people know how to pull off this conversational application letter.
Job Application Letter Tip #5: Give Your Letter a Warm, Friendly Tone
Show your personality here. Keeping a letter too business-oriented can come off as dry and won't help you stand out as a candidate. It matters less whether you are an introvert or not, after all, record has it that there are tons of highly successful introverts out there you can learn from.
Going along with the tip above, remember that these are people you're going to be working with.
Keep your tone business-appropriate but also be yourself. So make some jokes (if need be) and write a letter that would make you smile if you were on the receiving end.
Act as if you're writing an email to a work associate that you like but didn't know that well, but one that you wanted to get to know better.
Job Application Letter Tip #6: Be Up-front About Anything Unusual in Your Work History
Is this your first time applying for a job? Be upfront about that. Have a few gap years because you took time off from work to have children? Don't try to hide that gap on your resume and hope they don't see it.
Are you changing fields and don't have any experience in the field you're applying to? Say that but highlight what skills you do have that can transfer to this new area.
Writing a job application letter is your chance to address anything that might raise eyebrows and put the situation in the best light possible.
Related: How to Perfectly Explain Employment Gaps in Your Resume
Job Application Letter Tip #7: Don't Follow a Formulaic Format for Your Application Letter
While it's good to know the basics on how to write an application letter, to see some examples of strong application letters, and to know what to do and what not to do, you also want to be sure your cover letter is original.
If you download a template, copy someone else's format, or follow a strict format found online, your application letter is going to look like everyone else's letter and won't stand out.
Instead, learn the parts of a strong application letter and rework the formatting to make it your own. And, if you have written past application letters you feel are strong, you can always use those as a template but be sure to update them and tailor them to the specific job you are now applying for.
Job Application Letter Tip #8: Proofread, Proofread, Proofread!
Errors are not your friend in an application letter. Since most jobs call for attention to detail, you might be eliminating yourself from the candidate pool right away with minor errors or issues on your application letter.
But proofreading what you've written once, especially after writing it, might not allow you to catch whatever errors are present. Instead, write your cover letter early, proof it after you finish it, and revisit it the day after you've written it to see if you can catch any other errors that might be present.
Finally, before sending in your application letter and resume, look over your letter one last time to make sure everything is good to go. Triple proofing your letters and catching any tiny mistakes can help you not just stand out from the crowd, but land the job interview.
With these tips in mind, you should be able to write a stunning application letter and stand out from other applicants. For even more help on writing an application letter that is both you and unique, there are professional letter writing services out there to help. You can always use this amazing plagiarism checker to be sure you are doing the right thing.
Did you get help reading this? Use the share button to extend to your audience. But before then, tell us which of these job application letter tips you consider to be most essential.