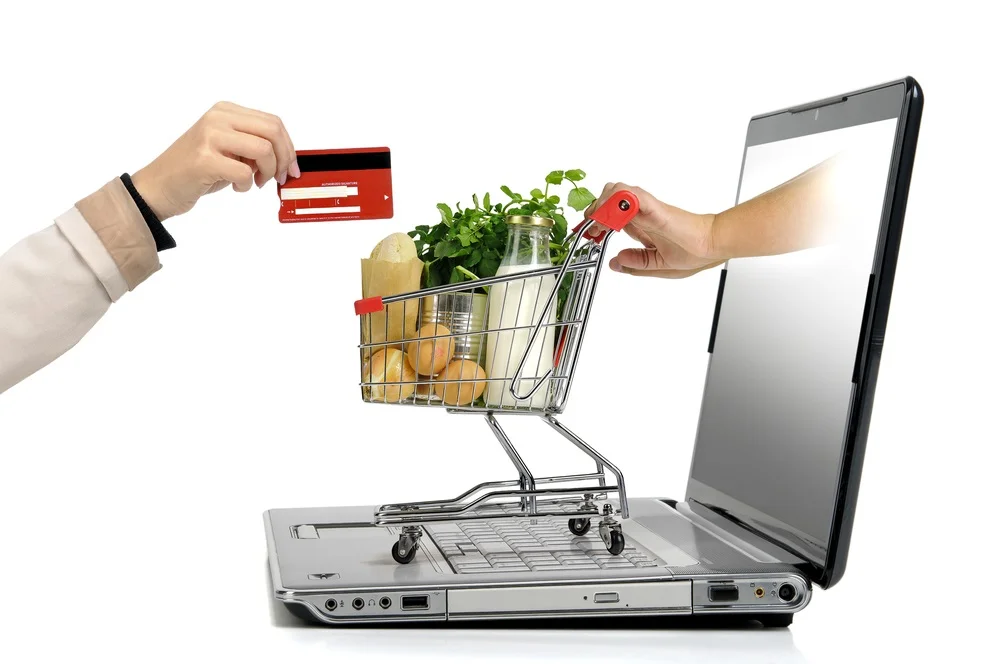 Are you thinking of taking your business online but don't just know how to push it out there? Or do you think the kind of business you run doesn't have a waiting audience on the internet desiring to have it?
Okay, maybe the global pandemic, Coronavirus has locked you indoors but you need a way of making money online by selling essential commodities?
Well, let me shock you. Now you can effectively sell groceries online and still make a huge monthly income.
The rising demand for e-commerce has increased the growth of online retail. Initially, the focus of online retail started with electronic items. However, as the time-shifted, the focus started spreading to other various industries such as fashion and much more. Later, the focus spread even to selling groceries online.
Nowadays, people have started to sell grocery online. The grocery industry is gaining momentum on the internet. So, if you've been looking at starting a new business you can do that now by setting up your own online retail store.
Don't fret about how. In this article, you will learn how to start a successful online grocery store, how to sell grocery items online and how to decide which grocery products to sell.
Step-by-Step Guide on How to Effectively Sell Grocery Online
Step 1 – What to Sell?
The first thing to know before you can sell groceries online is to identify what to sell. Make no mistake about that.
You need to first fix the grocery products that you would sell online. Make sure you have the products that are in high demand. You may have to test the market demand for any grocery product you would like to sell online before buying them in large quantities.
The product you choose to sell online could include anything such as ethnic snacks, drinks, or any other thing.
Moreover, before selecting your product you also need to ensure that you do not select any product that is banned in a particular locality. To know the banned products you need to keep yourself updated with the grocery news.
Step 2 – Are You Going to Be Manufacturing or Procuring?
The second step to selling groceries online is to decide if you would manufacture products or procure them.
If you consider manufacturing you need to have all the arrangements regarding manufacturing such as raw materials. On the other hand, if you choose to be procuring your products you need to identify the right supplier. This is where dropshipping online grocery store comes into play.
The way dropshipping works when it comes to selling groceries online is that your brick-and-mortar partner shop will deliver on your behalf when customers place orders through your online grocery store.
In either case, you need to focus on the quality taste, time frame, and much more. All these factors would help in enhancing the customer satisfaction score.
Step 3 – How to Store?
Storage plays a very important role in an online grocery business. The reason is that the products in the grocery business are perishable. The quality of your products would be based on the way you store and package them.
You need to ensure that you have proper facilities such as fridge, coolers, and temperature regulators.
Moreover, you also need to focus on the packaging. The packaging should ensure that the product does not spill or get spoilt. Moreover, the packaging should be good enough that no pests enter it. The importance of eco-friendly packaging can't be overemphasized at this time.
You can even make the packaging lit by adding some quizzes, information about the product, health facts, or any other interesting information. Such steps can help you build customers' interest. To get a hint, you can order a product from one of your competitors. Also, see what other small businesses like yours are doing to reduce packaging costs.
Step 4 – Where to sell?
One of the biggest doubts everyone has when it comes to successfully selling groceries online is where to sell. Well, there are actually two answers to that; online stores and marketplaces.
Online stores are stores you need to create yourself. You need a huge investment to create an online store.
More to that is that you also need to focus on a strategy for channel development and customer attraction.
As your shop would be a new virtual entity, you need to focus on how you would get the word out. It requires thorough planning, the creation of different marketing frameworks and tapping into the power of word-of-mouth marketing.
Marketplaces are pre-established stores, where you can register yourself. The marketplaces have everything developed for you. Once you register, you can focus on your core business.
Unlike an online store you developed by yourself, you need not devote your time to stuff such as website development and others. With the newly launched Facebook Shop, you can sell grocery online with or without a website.
However, in such places, you need to be very cautious about your performance. Poor performance can get you kicked out of these marketplaces. Moreover, when it comes to competition, it is huge in those marketplaces. Amazon, Jumia, Alibaba, Builderfly (for Indians) etc. are some of the most classic examples of a marketplace. Anyone can buy fresh vegetables, wrapped foods, and household items on online grocery platforms like BigBasket, Grocers, Instacart, Localbanya, PepperTap, etc.
Step 5 – How to Ship?
The biggest challenge with grocery items is that they are perishable. This is one thing I can never overemphasize.
Therefore, every online grocery store owner must ensure that the food items are delivered as quickly as possible.
To maintain the freshness of the products, it is essential the stores provide a one-day or two-day delivery guarantee. Fast delivery is a key to gaining customer's preference, especially in the case of an online grocery store. However, it is obvious that faster delivery would increase the cost of the product. Always state that in your T&C.
If you'd like to save money on delivery charges, you need to research and select the appropriate delivery service according to your budget.
The delivery service that you select should be efficient and have proper air conditioning for the products. Also, being into the grocery business you also need to keep the weather in mind. Products should be quickly supplied in the summer season but during winter you can slow down the delivery as the chances of spoilage reduces.
Step 6 – How to charge?
Pricing is a very important factor when it comes to running a profitable grocery business. After all, it's the profit that businesses look after. Therefore, you need to focus on various factors before you decide your price.
Right from the very moment you decide to sell groceries online, you will have to decide how much you intend to charge your customers to remain profitable.
Below are some of the important factors you need to consider before selecting a price for your e-commerce products, especially if you are selling grocery online:
Labour
Packaging
Storage
Shipping/Reshipping
Profit
When you decide on the profit, do not think of big numbers as they might scare the customers away. You need to keep the prices of your competitors in mind before you decide on your profit.
Step 7 – How to market?
Starting an online grocery business is just the first step. Your business should have a public presence.
People will not show up to patronize you if you do not spread the word about your business. It doesn't have to be difficult.
If you are completely clueless about how to go about marketing your grocery store online you can hire the services of a top-notch digital marketing agency like Ebusinessroom to help you take care of that.
Marketing is very essential in growing any online business. It becomes even more interesting when you start deploying growth hacking techniques. One of the best places to market your business is social media. Platforms such as Facebook, Instagram and Twitter have given various businesses the opportunity to spread the word about their businesses. You too can tap into that.
Alternatively, you can get onboard with Shopnix. Shopnix provides you with the opportunity to create your own online store without you having to focus on the development part.
All you need is just one small signup, select a package and theme, and start uploading your products for sale. It provides you the ease of marketplace and the benefits of an online store.
There's no better time to consider selling groceries online than this time of global pandemic when everyone is at home for the fear of contracting COVID-19.
Have you started an online store already? If yes, tell us how you did yours. We do hope that you have learned how to sell grocery items online with these few points. You have our permission to share this article with a friend planning to sell groceries online.
Can I Make Food At Home and Sell It Online in California?
Yes, it's now legal to make food at home and sell it online in California. Since 2013, The California Homemade Food Act has given permission to home cooks to make and sell certain low-risk foods from homes, such as baked goods, jam, and granola—but it does not allow vendors to sell hot, home-cooked foods.
Online Grocery Shopping Statistics and Facts
In the United Kingdom, the most popular supermarket brand called Tesco sold to half of the online grocery shoppers in 2022. More than 40% of online shoppers in the UK who were interviewed in 2021 said they will continue to shop online as they did in 2020 during the pandemic.
The implication is that popular brands in the UK online grocery scene like Tesco, Sainsbury, Asda, and Ocada will continue to record more sales.