What makes a corporate business event successful?
A lot of things. But, the foundation of a successful corporate event starts with the right venue, and Salt Lake City supplies dozens of indoor and outdoor venues for every type and size of business event.
If you are considering hosting your next event in Salt Lake City, here are 6 carefully hand-picked event centers you can host your corporate business event. You can dig further to know if they have any customers' loyalty programs you can benefit from.
6 Best Places To Host a Corporate Business Event in Salt Lake City
Business Event Center #1: Temple Square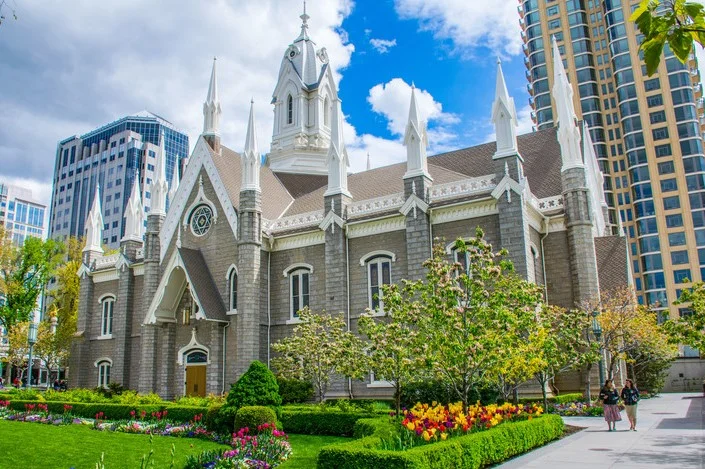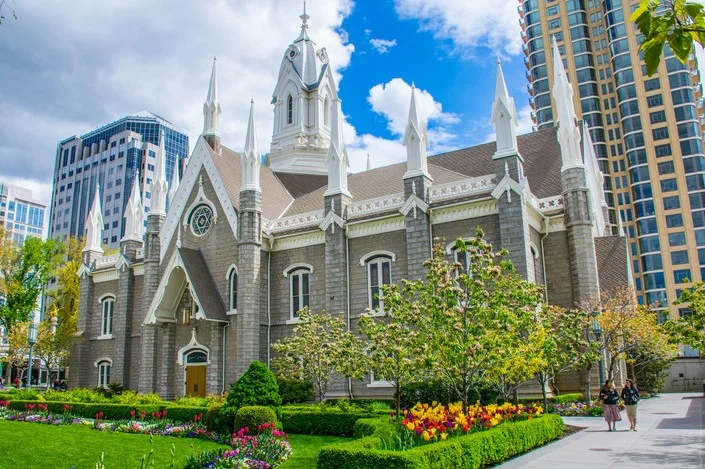 If you have no idea where to host a business event in Salt Lake City, start in the heart of downtown Salt Lake.
Temple Square is one of the biggest city attractions, drawing in thousands annually. Single travelers, couples and families can all find things to see and do around this 10-acre complex, while every kind of company can easily plan and host a corporate event here.
You'll find two of Salt Lake City's premier business venues on this property: the Joseph Smith Memorial Building and the Lion House. Take your pick from different sizes and styles of banquet rooms to match your event's theme and guest list, and then be sure to take full advantage of the delicious on-site catering services, fully-equipped rooms and experienced event planners.
Additionally, if it's a holiday event you're planning, there isn't a better decorated, more brightly lit or more perfect location than Temple Square.
Business Event Center #2: Falls Event Center
Another downtown option offering historic charm is the Falls Event Center at Trolley Square. This Salt Lake venue is the perfect combination of classic and modern, visible from inside and outside both buildings.
You can rent one building for smaller gatherings or rent the two buildings together to accommodate a large corporate event.
There are several large windows allowing lots of natural light to come in, and the acoustic ceilings will give your event amazing sound for speakers and a band. With its open vendor policy, help with setup and takedown of the items it provides flexible and spacious floor plans—with an option to host an outdoor event—even if you don't know your exact event's theme and itinerary, you can know Falls Event Center will provide the right aesthetic for a great corporate event.
Business Event Center #3: The Grand America Hotel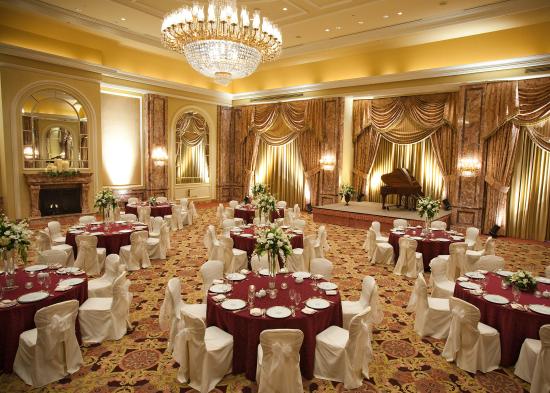 The Grand America Hotel is every bit as grand as its name implies, offering approximately 75,000 square feet of business meeting space.
Its first floor houses a beautiful outdoor courtyard and a handful of ritzy rooms for up to 3,000 attendees, while its third-floor boardrooms are for more intimate corporate events with balconies overlooking the Center Courtyard.
Whether you're holding an elegant weekend conference or a classy fundraising gala, this five-star hotel is sure to wow your local and out-of-town guests.
In addition to that, the Grand America's lounges, suites, spa and staff easily help make your corporate business event a grand experience for all in attendance.
Business Event Center #4: Salt Palace Convention Center
The Salt Palace Convention Center has made a name for itself in Utah, hosting events like the Salt Lake Comic Con, Tech Summits, National Conventions, outdoor expos, sports and dance championships and more every year.
With 164,000 square feet of meeting space and 14 rooms that can be split into 70 various-sized meeting areas, space is not an issue here—but neither is parking, food or audio and visual needs as the Salt Palace has 1,000 underground parking stalls, a fantastic in-house cater and a full-service tech staff.
Whether you need full-facility service for an entire day or one room for a morning meeting, Salt Lake's well-known and well-used convention center will help you with planning a corporate business event and pulling it off smoothly.
Business Event Center #5: McCune Mansion
If you're looking to impress your guests, host your next corporate business event at McCune Mansion.
Businesses have hosted corporate cocktail parties, holiday dinners, sales events, business meetings and corporate retreats here.
McCune Mansion provides unique food menus, bartending services, tables and chairs, break-out rooms, projectors, valet parking and more to companies just like most of the best co-working spaces do.
The history, charm, numerous amenities and friendly service make the McCune Mansion one of Salt Lake's oldest and finest treats in venue form.
Business Event Center #6: Red Butte Garden
Locals love Red Butte Garden for its year-round vibrant beauty. But it's not just the largest botanical garden in the Intermountain West; it's also a great business event venue.
You can host a sales presentation at the Richard K. Hemingway Orangerie or a small luncheon at the Rose House.
You can also book space in certain outdoor areas in the garden or amphitheatre during the warmer months—ideal for company picnics, carnivals or concerts for your employees and their families.