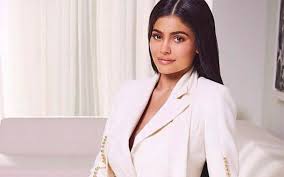 One of the fastest ways to learn in our today's society is to grab some business lessons from some of the wealthiest people around us, especially young female billionaires who their source of wealth can be verified. A good example of such people is the social media celebrity and cosmetics enthusiast, Kylie Jenner.
In a couple of months from today, Forbes Magazine will soon announce the arrival of Kylie Jenner into the billionaire club if her wealth continues to grow like it has been growing since the last 3 years she started her cosmetics brand.
Background Story of Kylie Jenner
Kylie Jenner was born on the 10th of August, 1997 into the family of Caitlyn Jenner. What many considered to be her best luck was being born into a family that is famous and goes all length to sustain their fame. The famous Kim Kardashian and Khloe Kardashian are her half-sisters.
In 2015, she started her cosmetics brand, Kylie Cosmetics with $250,000. That was only enough to manufacture 15,000 lip kit, which she sold out same minute. Almost 3 years down the line, she has been able to build a company worth $900 million.
Is Kylie Jenner "Self-Made"?
Ever since Forbes Magazine announced that Kylie Jenner is going on the front page of their magazine for August edition, (coincidentally her birth month) many people have raised their eyebrow as to why Forbes Magazine should regard her as a self-made woman.
Many arguments on this were based on the fact that she rose to fame on the popularity of her family.
While some people are arguing that Kylie Jenner who's now worth $900 million shouldn't carry the badge, "Self-Made" I personally want to salute her courage for being able to make good use of the connection she's got to make a fortune at an early age of 20.
Many who believe that being Kim Kardashian's half-sister was what made all the difference for Kylie Jenner might probably do nothing notable if they had any connection with the Kardashian They would prefer to sit at home and enjoy their family wealth.
If you think this is untrue, ask yourself: "To what extent have I maximized the little connections I have to increase my wealth?" Or you think you don't have any, even on social media?
Business Lessons From The Youngest Female Billionaire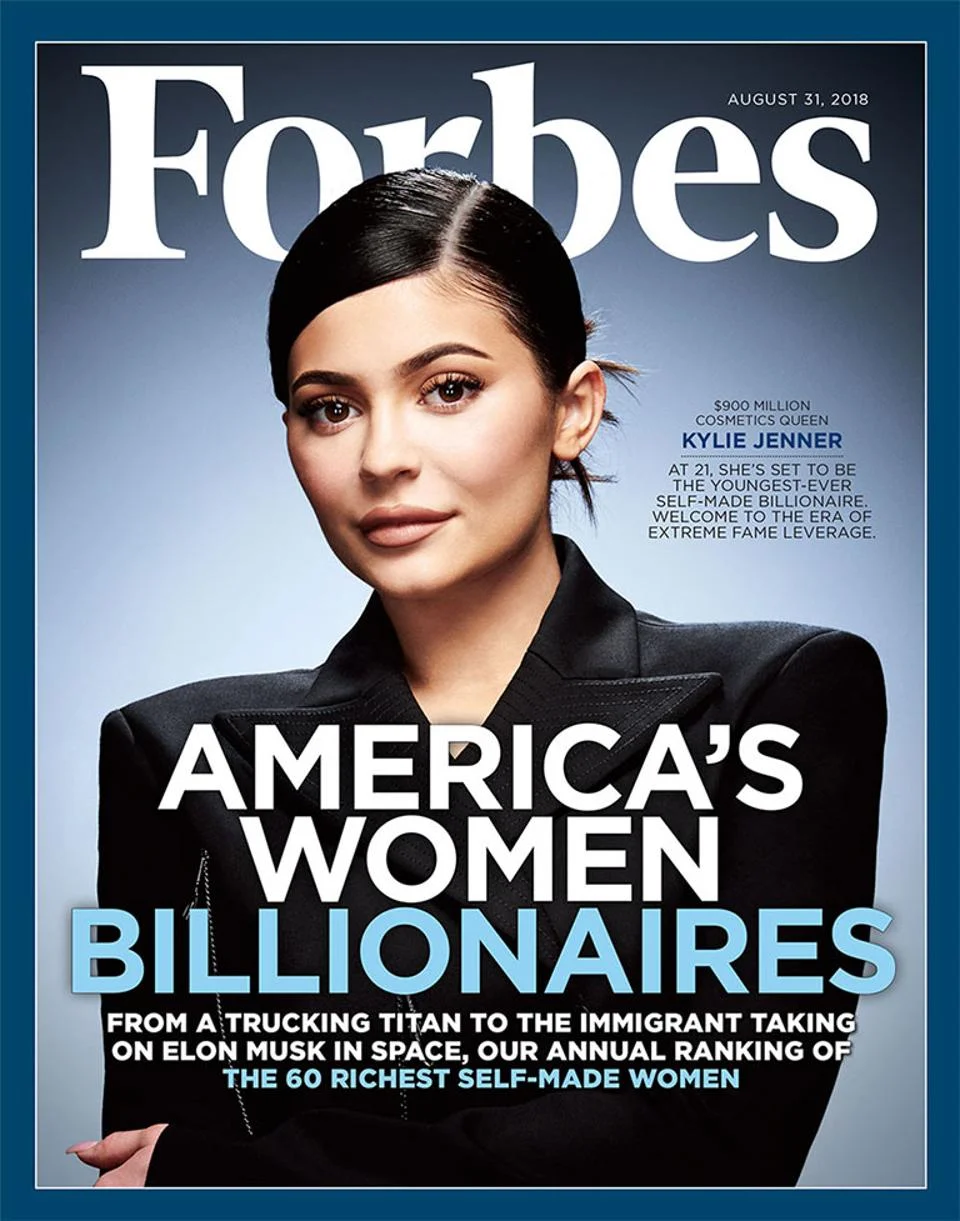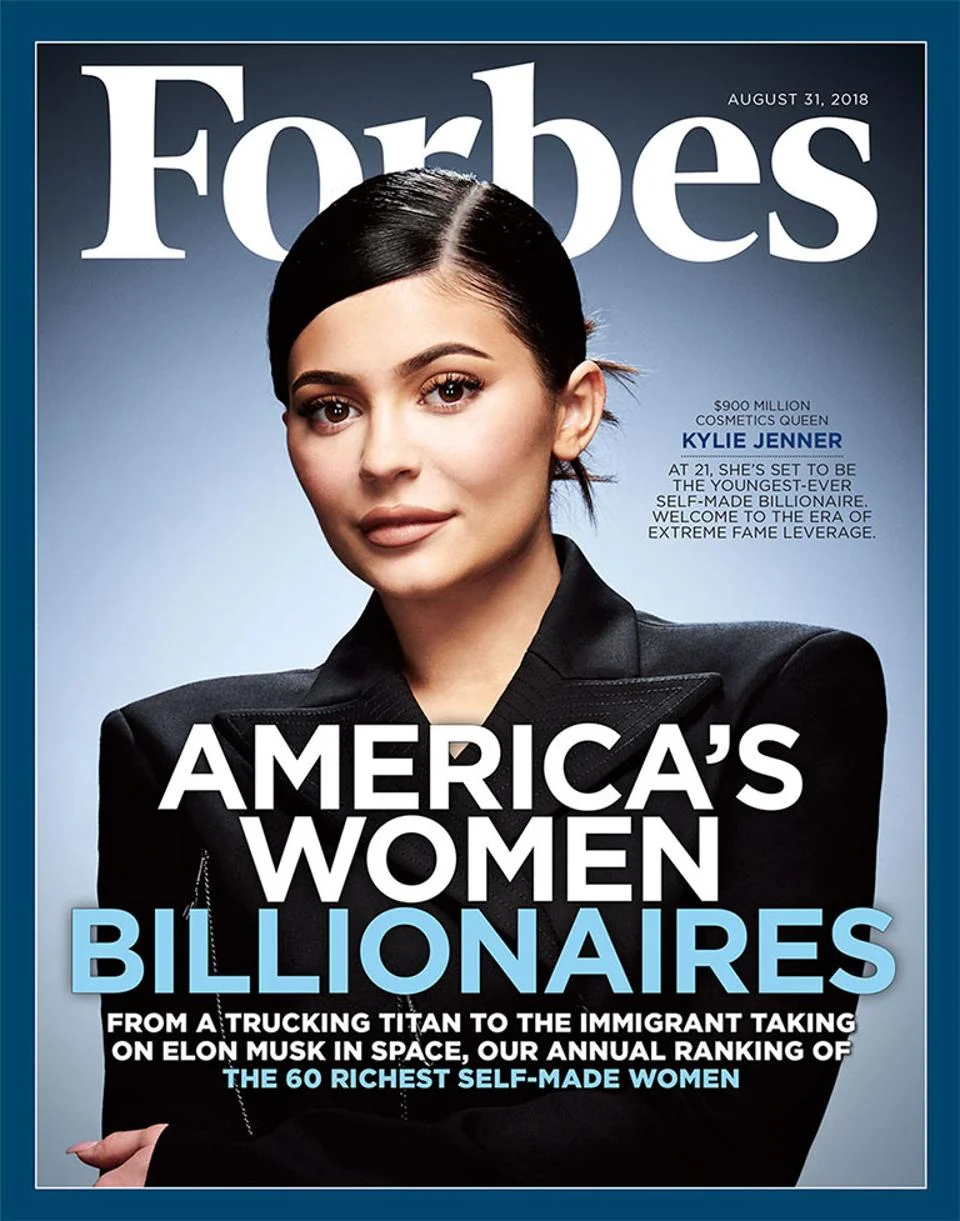 For those of us coming from a world where we have people that love us but can't help us because they can't afford it or we are doing something unfathomable to them, Kylie Jenner's story should teach you the following:
No matter how popular you are, if you are not selling a PRODUCT, and of course, one that people want, there's no money for you. 
This is very simple. To make money, you must sell something. And to make so much money, you must be selling what people want.
Now, the question is, How do you know what people want? You do that by asking them, using Google Trend or by observation.
Making so much money isn't about crowd but having a TARGETED AUDIENCE of people that love your brand. 
As at the time of writing this article, Kylie Jenner's social media followers is sitting at over 150 million. And you know what, a good number of these followers followed her because they love her brand or because they have used her brand.
If you are passionate about growing a cash pumping Business Empire, you must put effort in attracting only people that are passionate about your brand. One of the smartest ways to do this is using an appetizing freebie that will solve problem for people in a specific niche. On this blog, we used this free eBook, SELL MORE IN LESS TIME.
Money flows in the direction of TRAFFIC.
There's probably no better way to say this than to remind you that if you need more money, you should have what it takes to drive more traffic to your e-commerce business. This is exactly what Kylie Jenner did to increase her wealth in the last 3 years.
This is not the time you should still be considering whether you should BRING YOUR BUSINESS ONLINE or not. Social media is free. 
If you are still living in the wood in this century, wake up before your competitors drive you out of business or buy you up.
Today, it's easier to run a successful online business than guarantees time and location freedom. Whether Kylie Jenner is out of California or not, her business keeps running because she's got everything hosted online.
You can read up how to choose a profitable online business niche to get started.
Don't let the traffic start and end on social media, PUSH IT TO THE PLATFORM YOU OWN. To Kylie Jenner, it's her website.
The awful stories of social networking sites like, MySpace, Hi5, Vine are enough warning signal to remind you that you don't own any of these social networking sites irrespective of how many followers you've got in there and you must not pitch all your tents there.
You must build your own platform. On a smooth start, you can get an affordable blog. With our free Blogging Business Plan, you can set up a highly successful blog that will help sell out your products and services in a couple of months.
Build a business around what you love.
In Kylie's appreciation of being featured on Forbes Magazine, she said, "I'm so blessed to do what I love every day." By that, she passed a message that will remind all that she loves to talk about cosmetics and can never get tired of it.
Now the big question to you is, Are you doing what you love? Or are you making money doing what you love?
If no, this is the best time for you to grab this eBook, Bridge The Gap that will teach you how to turn your hobby, passion and skill into a profitable and sustainable business.