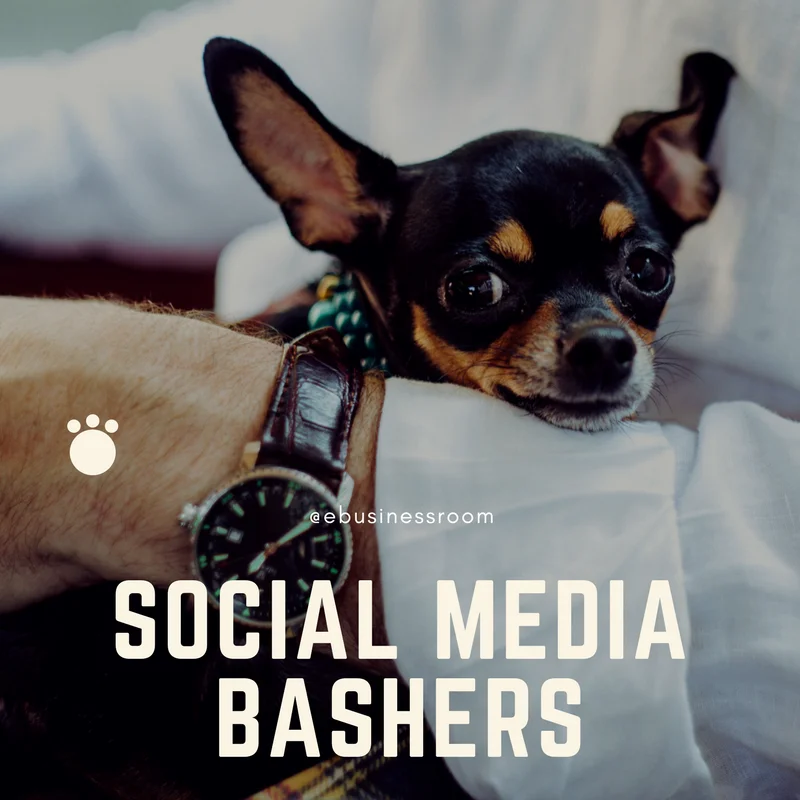 Trying to understand how to deal with bashers on social media can be quite challenging.
Do you have a social media account?
Do you run advertising on any of your social media platforms or intend to do so in the future?
Are you in charge of an advertising agency where you help your clients to promote their business on social media?
If your answer is yes to any of those questions above, then chances are, you are already familiar with social media trolls and bashers. But if you are not, then it's important that you know about them today so that they don't keep tearing down what you've worked so hard to build.
What is the Purpose of Social Media Bashing?
Social media bashing is a subtle way haters express their jealousy online. Bashing is the only way to make them feel better. To social media bashers, there's no better way to get back at those who are more successful than making negative comments about them. When people bash you online for no apparent reason, just know that they are jealous of you.
Bashing describes verbal abuse and harsh public criticism. Combined with the term social, it refers to accusatory or abusive verbal attacks via social media activities. This phenomenon is often referred to as cyber mobbing.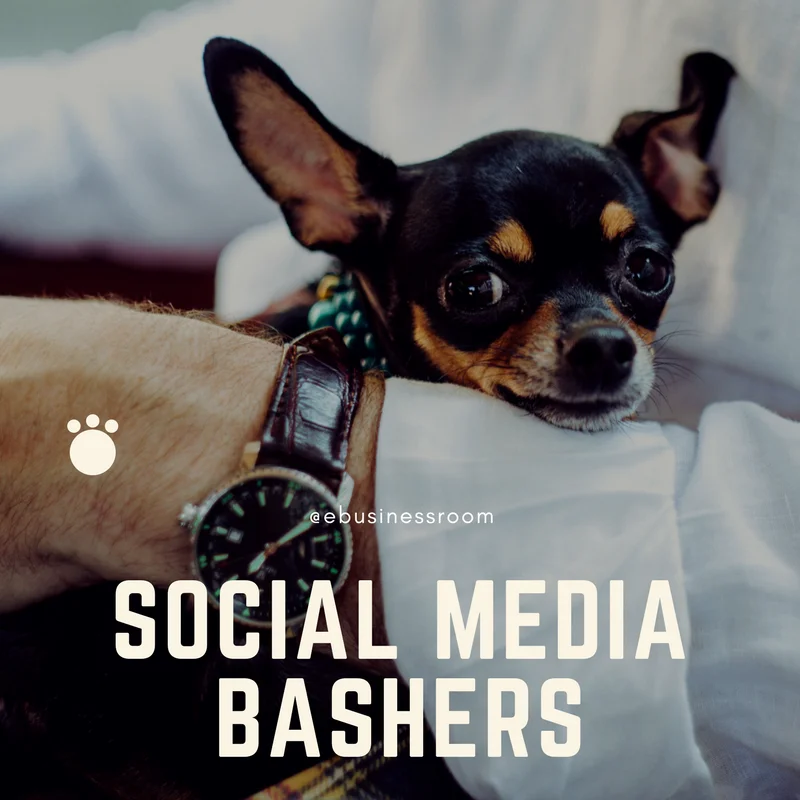 Before we look at the meaning of social media bashing, here are the various search engine queries people are asking regarding managing negative comments online:
How to respond to bashers and haters on social media?

How d deal with haters on social media
Message to bashers
How to respond to rude comments on social media
How to manage or deal with hateful comments on social media without losing your audience
Does ignoring or deleting negative comments on social media help in dealing with bashers?
What is Social Media Bashing?
Social media bashing describes the verbal abuse and harsh public criticism on social media geared at invalidating another's opinion whether right or wrong.
Social media bashers and trolls often make it difficult for you to understand the difference between when a frustrated customer is talking and when someone with no valid opinion tries to lure you to an unreasonable argument.
Whichever you mistakenly stumble on; genuine complaints or bashers/trolls, one thing that will stand out is how you respond to them.
Social Media Bashing and How It Almost Ruined an Expert's Ad
Going through my Facebook newsfeed a few days back, I stumbled on "Traffic and Funnels" sponsored post where Taylor Welch was trying to sell their audience an offer that has enabled them to generate millions of dollars in revenue for their clients.
Though it was an epic presentation because I actually believe in most of the things he was saying, but what shocked me to my marrow was the kind of comments people left for him. It was a blown expression of hate, so to speak.
But the height of it was that Taylor couldn't grow a tough skin to either ignore them or respond professionally.
These comments below are examples of what social media bashers can do:
"Can't shoot a professional video, doesn't look professional, but spends millions of massive clients' money yearly on ads for them. Would love to see numbers on those ad accounts."
"I'm tired of these Facebook jokes! Get out and work people! Build! Inspire! Do! Don't sit in front of a computer and be alone with some money."
"Are you working hard consistently and not seeing results? Keep going and stay away from shiny objects like this one. They prey on impatience."
"That's a great idea. But before you put it on Facebook, you should check your grammar. And maybe brush your hair."
"Fix your teeth with the revenue you make."
"This guy's handling multimillion-dollar accounts (hundreds of them) but has only been in this business for 6 months (and has an office that is falling apart."
Imagine if you have hundreds of similar comments in one post… You will freak out, right?
I guess those were never unconnected to why Taylor Welch of Traffic and Funnels reacted the way he did.
Why You Should Be Careful of How You Respond to Social Media Trolls and Bashers
For the following reasons and more, it's of essence that you don't dance to the tone of those people that do nothing but leave negative comments in your posts, especially on ads. Here's why:
Your social media pages are extensions of your company face on social networking sites
The way you respond to comments on social media says a lot about your company core values and respect for her clients
A lot of folks out there are only trying to see how you can handle criticism
Your competitors might the force behind the negative comments you get
Words that have gone out to the public domain can't be retrieved. This alone is enough to give you a negative brand reputation.
7 Ways Professionals Handle Social Media Bashers and Trolls
If you are often getting negative comments on your posts and ads, and you are wondering, "What's wrong with me?" I want you to know that you are not alone.
Most of the experts in your industry you admire today once or several times in their business struggled with handling social media bashers. What's more? A lot of them are still struggling with it. And some are still losing potential clients as a result of that.
Painful, right?
I honestly understand what it feels like. So, I'm going to give you a quick and easy guide on how you can prevent social media bashers from running down your business.
  1. Don't Make Bogus Claim without Backing It Up with a Disclaimer
Any time you make a bogus claim, you will attract this look that can be interpreted as: "Huh? What's this one saying? What does this young lad know about marketing? Hey man! Who knows you?"
Registering such first impression on your prospects is enough to get them to tune off, close your ad and walk away. Everyone isn't your ideal client, anyways.
But to handle that immediately, always, "always" include a disclaimer. Let them know that your results, those of your clients and students aren't typical. Remind them that they will need to work on their copy skills, relationship and a lot more to get such a level of result or even more.
Raelyn Tan got a legal expert on her blog to give insight on how to write an amazing disclaimer. Once you have a disclaimer, it will make it easier for you to handle online bashers.
Additionally, here's how marketing expert, Frank Kern puts his book sales disclaimer.
  2. Genuinely Be Open to Accommodate Criticism
Having good listening skills is one of the super-amazing secrets of highly successful people. Even if it seems that the social media comment is literally talking shit, you have to listen.
There's a lot you can learn from both constructive and seemingly destructive criticisms. In most cases, other people might just rise to your defense if you are able to manage the conversation professionally.
Always remember the fact that some are sadists but if you pay close attention, you will learn something in the process.
  3. Don't Be Quick to Respond to Social Media Bashers
Read the basher's comment for a minimum of 3x to fully digest what they said. There are cases where people lack the right words to use and they end up using words that are easy to be misunderstood.
  4. Grow a Thick Skin When Necessary
It's not every comment that deserves a response. So, if you know you are not disposed to reply with the right words that will represent your brand correctly, it's better to say nothing or hide the comment.
Always master the act of self-control, otherwise, you might destroy your brand reputation with one silly comment. Remember, some social media comments are not made because they want to learn something new but because they want to know how you will react.
To hide comment on Facebook, press your finger on the post and click on, "Hide" as shown below.
  5. Engage Social Media Bashers in a Constructive Discussion to Help Decrease Your Ad Spent
More comments and reactions in social media advertising make the advert easily go viral thereby decreasing your ad spent.
In all these years of working with different clients, I have come to understand that there are basically two ways to make an ad go viral.
Those ways are…
It's either you say something that people really love enough to share it or you say something that will annoy people (especially, your haters) enough to respond to it. Whichever be the case, as they respond and respond, chances of having massive conversion increases.
For me, I don't really like the second option. But if you are in the entertainment industry, it will most likely work for you.
  6. Target Only Those Who Are Likely to Convert
There's no how you can totally avoid social media bashers and trolls from getting into your ads. But however, you can bring them to a manageable limit by targeting only prospects who are more likely to convert faster.
Anyone that has had a feel of your quality product for free (now in your list) will most likely never leave a negative comment in your post.
This is where remarketing and retargeting comes into play. In your first social media advertising, it's professional to target cold traffic with your lead magnet. While you retarget those that have visited your site before with your product ad.
  7. Don't Settle Conflict in the Open. Ask Them to Message You
I have been following a lot of social media conversations done on social media pages of corporations where customers complained of poor services but one thing that stood out in all of them was that they never tried to handle it in the open. They will always ask the customer to send them an e-mail or private message on Facebook.
One brand I have come to love that does this perfectly is Guaranty Trust Bank – a reputable bank.
If there's nothing else you can walk away with from this long-form post let it be that you should never handle conflicts and complaints in the public. Instead, ask the customer or prospect to send you an e-mail or a direct message.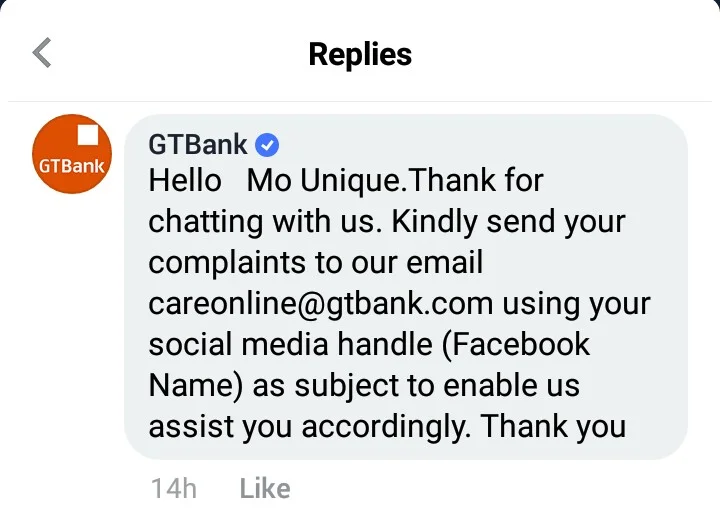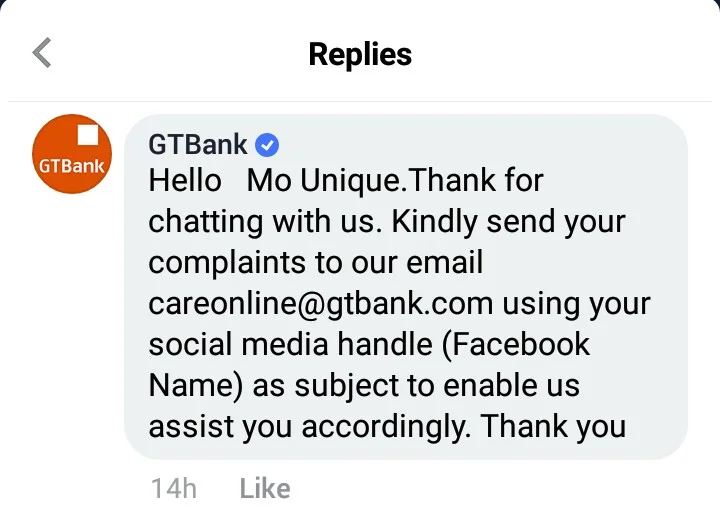 Here are 2 interesting things that happen when you do that:
They will feel special because you gave them the personal attention
You can have them join your chatbot or email lists as the case may be
One Guaranteed Way to Manage Social Media Bashers and Possibly Turn Them into Brand Evangelists
If your aim is to build a business you can be very proud of, then managing social media bashers professionally and possibly turning them into brand evangelists shouldn't be given a second thought.
You need a team of digital marketing experts to examine your brand's social media pages, tell you what are already doing right, what you are doing wrongly and best practices on how you can interact with your audience, increase engagement and multiply your sales.
To get in touch with us on how to get started straight away, fill out the form below accurately and our team will get in touch with you within 5 working days to book an appointment.

What other ways do you handle social media bashers? Share your experience with social media trolls with us. And please, don't forget to share this post on social media as someone you know might be in need of it.
Recommended