Finance
5 Reasons Why Mobile Banking is Good for Business
What are the benefits of mobile banking? How can entrepreneurs use online banking to grow and scale their businesses?
More and more businesses are going mobile – and for excellent reasons. You no longer have to sit down in front of your computer or personally visit your bank branch just to access your account. A device that you carry all day is all you need, and that's your smartphone.
With mobile banking, there is no need for a Wi-Fi connection. Even if you don't have a Wi-Fi connection, mobile business banking is still possible as long as you have a data plan. So you may not have an Internet connection all day long but with mobile data, you still get to see where your money is going, anytime and anywhere.
Whether you're on vacation or travelling on business, mobile banking gives you access to your finances wherever you are.
Here are five major reasons why mobile banking is good for your business.
1. More Options for Mobile Apps
With mobile banking, you have numerous ways to manage your account. Small businesses can use mobile apps to do their banking without ever touching physical cash. Through the development of mobile apps, the banking industry now has become more dynamic and innovative than ever before.
Not all financial institutions provide mobile banking services automatically, though. So when opening a business bank account, it's best to consult first with your banker and check if all your needed banking features come with your account.
The following are some of the best mobile banking apps currently available.
Turn On/Off Debit Card – With a single tap, you can lock or unlock debit card access for security while your actual account remains open.
Secure Account – Besides having simple passwords, you can choose to have biometric verification either through a fingerprint ID or a gesture-based password.
Transaction Details – It doesn't just display the payment made by your customers but also shows the full information you need about them.
Funds Transfer – You can quickly and safely transfer money to any person or company at any given time.
Safe Spending – It's great to always know your current balance to avoid reckless spending. At a glance, mobile apps provide users how much they have left in their account after pending transactions, scheduled bill payments, and savings goals.
ATM/Branch Locator – You can easily locate your bank's nearby branches through the search function or their GPS location.
Credit Monitoring – Your credit score will be updated monthly for you to view on your mobile device.
Travel Notification – Whenever you go out to travel, you can quickly notify your bank through a simple tap or swipe.
Personalization – You can customize the way you want your dashboard or interface to look that will perfectly fit your needs. You can also personalize your profile and quickly view the list of your most frequent transactions.
Customer Service – You can quickly get help from a personal banker or set up an appointment. Video tutorials and frequently asked questions (FAQs) are also available for your convenience.
2. Quick Access to Accounts Using Mobile Banking
Bank according to your schedule using your mobile device. This way, you do not just increase your business productivity but also get more things done as you no longer need to personally go to the bank to access your company books.
You can easily check money transfers, check deposits, and monitor transaction histories which gives you a safety advantage. With just a click, you can review checks deposited and cleared in your account to accurately calculate your company's balances.
You can also set up a deposit and remote payment system to assess the paper checks deposited and get the complete picture anytime, anywhere you wish to.
If you want to review your business banking records while waiting for your flight or you just want to verify if a transaction went through, mobile banking offers the simplest solution. You no longer have to wait for a particular time, or personally check at your bank branch. Wherever you are, mobile banking lets you access your records.
3. Better Security with Mobile Banking
Since your mobile device is always close to you, surely you won't be leaving it behind. Your business bank accounts can be attached to your specific device so that others won't be able to access them without your authorization.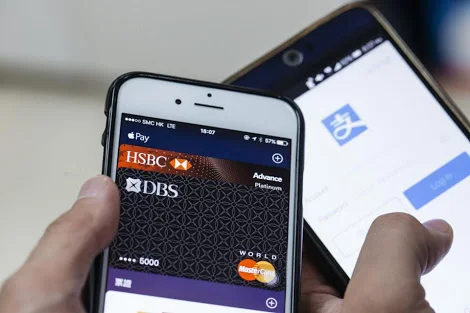 Your personal smartphone security such as passwords and GPS technology will also serve as additional protection from banking fraud and other related risks.
Even if your phone gets stolen or lost, your account will be safe since bank data is safeguarded with ID checks and passwords. You can also remotely disable your phone when unforeseen circumstances happen.
Knowing that your business accounts are your best assets, mobile banking has been tailored in a way that it won't pose any additional risks.
4. Improved Customer Service
With mobile banking, your customers can easily make money transfers. It will also lessen your operating costs as you will no longer need to hire someone to handle the payments of your business in a physical location.
This even improves your customers' experience as they no longer have to wait in line to pay for your products or services.
You can be wherever and whenever your customers want you to. With mobile banking, they are not limited to your operating hours. If you're an online shop and they need to wire payment, you'll be available to receive it 24/7. For busy customers, a business that is available anytime is a pleasurable accommodation.
5. Get Instant Notifications or Alerts
Beyond just checking your balance and transferring funds, you can order your bank to send you an SMS to alert you whenever your balance goes below a certain amount. And if there's any unusual activity, your bank will immediately contact you by means of your mobile device. This is one of the effective strategies entrepreneurs are using to checkmate cybercrime and all forms of online threats.
You'll also receive routine updates, personalized promotions, and important announcements from your bank to keep you up-to-date with your account. The more you are aware of the transactions in your account, the safer your business becomes.
Through mobile banking, you'll never miss a payment, never incur a late fee, and manage your business finances well. Whether you're a global enterprise or a one-person sole proprietorship, you can get your business's banking mobilized and reduce your personal banking activities.
Think of a future where you bank with convenience. With mobile banking, capital management is more achievable and easier for your business. You do not only meet the expense obligations of your company but also maintain a sufficient cash flow.
Banking systems will continue to innovate as more and more businesses want the options and accessibility that come with technology.
With all the five benefits mentioned above, mobile banking will revolutionize your business by increasing your own efficiency and maintaining good customer service. Other ways in which an entrepreneur may use mobile banking and mobile technology will be to enable geo-tracking and budget tracking. When you offer your customers accessibility and convenience, you can expect to immediately reap the rewards.