Does your small business lack in the digital skills department?
Social media, in particular, is an area where many small businesses are struggling to make an impact, but as technology progresses and more people spend more time online, the need for an established digital presence becomes vitally important.
A study by Fujitsu found that 77% of their 1400 employees believed that the success of the business relied on the effective use of digital technology.
Now we all know that Fujitsu is heavily invested in many areas of technology but similarly, small businesses, in general, need to spend more time focusing on their digital presence.
Platforms like Facebook and Instagram are no longer just a place where people hang out. They're powerful marketing tools that can be used to generate highly qualified leads and make sales in your business. For some internet businesses, the entire sales pipeline revolves around the use of social media platforms such as Facebook.
How Advertising Has Changed Forever
Marketing and advertising is a totally different beast compared to a few decades ago. Before the digital revolution, marketing was practically a gamble!
Traditional forms of marketing like placing ads in newspapers provided no way of tracking results. You couldn't optimise a campaign because there was no way of collecting data.
Businesses had no choice but to throw things at a wall to see what stuck.
Contrast this to how things are in this day and age, it's easy to notice and appreciate how much things have changed now.
At the touch of a button, we can reach millions of people all over the world. At the touch of a button, we can generate sales in a business without having any sort of physical presence. We're able to hyper-target people based on specific traits and qualities that seemed totally impossible just a few years ago.
The digital age has allowed the small business to reach a large global audience and thrive through marketing that can be tracked and optimised to a degree that could only be dreamt of a few decades ago.
The Lack of Social Media Expertise
The rapid advancement of technology comes at a price. People aren't moving as fast as technology and many people lack basic digital skills even today. There's so much social media skills gap.
Business owners struggle to find the time to learn and master the fundamentals of social media.
People have a tendency to put off things that are unfamiliar, especially when we find it overwhelming or confusing in some way.
But small business owners can no longer afford to shy away from technology. It's completely changed the way we live our lives, and when it comes to purchasing products, the internet is where it's all happening at the moment. If your business is yet to take advantage of that, I doubt if you can survive the global innovation.
That's not to say that the brick and mortar store is dead, but that technology now plays a crucial role in any thriving business today.
The lack of social media expertise in small businesses usually boils down to two things:
Business owners shy away from learning about social media because the perceived complexity is daunting.
Business owners don't realise how much more money they make through digital marketing and advertising when done correctly.
Social media platforms like Facebook and Instagram can bring thousands of qualified leads for small businesses every month.
Of course, the exact numbers vary depending on your industry and budget but generally speaking, putting your business online will multiply your reach many times over.
Imagine having access to people from all over the world instead of just your local area.
Imagine not having to fiercely compete with local competition because you can reach so many people through a different medium.
You've got access to that right now with the internet! You may need to get this book, Facebook for Entrepreneurs written by Joy Eneghalu to guide you in the process.
Unlimited Growth Potential with Social Media Skills
Most small business owners don't fully appreciate the power and potential of the digital landscape. Many still operate under the assumption that social media is just a place where people hang out and chat to their friends.
But this assumption is just an assumption, as people have created multi-million dollar businesses through Facebook alone without hiring any extra staff.
That's one person creating a seven figure business without taking on any extra people.
This was practically impossible just thirty years ago.
Learning about how people create businesses that leverage the power of social media really puts things into perspective. It shows us what's possible today with the right mindset and the right approach to marketing. It shows us that it's totally possible to build a thriving business from social media platforms alone.
Social media allows small businesses to setup efficient systems that generate passive income. Once you've created a campaign that's profitable, the maintenance required is minimal.
When it comes to spending money on marketing, many small business owners shy away as they're too afraid to lose money.
They look at a marketing investment in terms of immediate returns they can expect. But unfortunately it doesn't work like this in the marketing world.
Most, if not all people that start digital advertising lose money at first. But it's the way that loss is perceived that determines the final result of the campaign. For people that understand how digital marketing works, money lost at the start of new campaigns is just data that they can use to optimize and create a profitable campaign.
Getting more small businesses on board when it comes to social media is more about a mental shift than anything else. It's about how these social platforms are perceived.
Once they understand the power of social media marketing, they'll invest more of their time and resources to create and grow their digital presence.
The Digital Economy Defining a Generation
The U.S. millennials grew up in the digital era. Generally speaking, our relationship to technology is a very close one. Almost everything we do happens in the digital economy, from shopping to communicating and taking pictures.
There really isn't much that isn't related to the digital world for us.
As millennials, we appreciate innovation that reinvents product delivery to simplify and improve lives.
Companies like Uber, AirBNB and Vimeo are some of the most successful disruptors of this digital economy.
None of these businesses invented a new product.
Instead, they reinvented the way business is done to suit the digital economy.
It's the simplicity in this technology that we find so appealing.
Within the next few years, millennials will be the largest number of consumers in the world.
This typifies the importance of learning and mastering technology in your small business.
Resistance to change can spark disaster over the long-term, like we have seen with so many large corporations over the years.
Identifying Gaps in Digital Skills
If you're a small business with a few employees, identifying where everyone stands with their digital skills is the first step to take.
You may already have a fairly respectable digital skill set amongst your team, without even knowing.
Once you've established the skills you and your team have, you can then take appropriate steps to educate yourselves on the things you need to learn.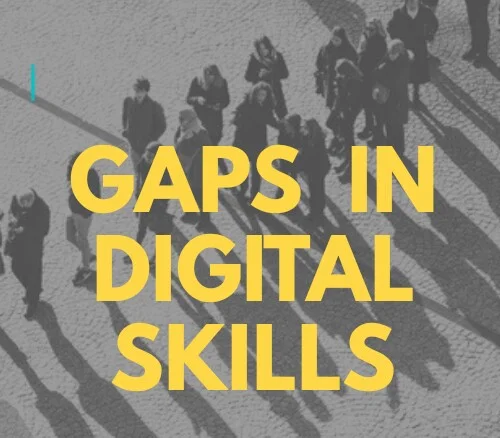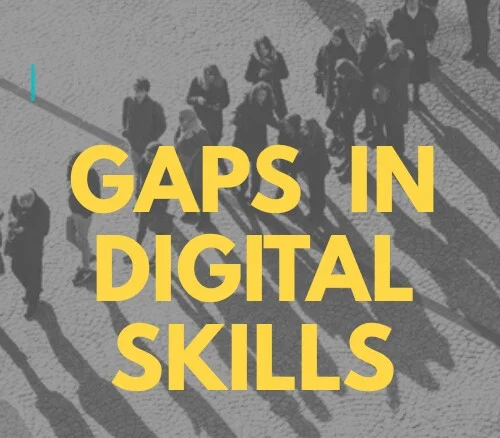 Consider the objectives in your business and where digital skills fit into that. By doing this, you'll identify the most important skills that require mastery to achieve your business goals.
Training and Development
Learning and growth is crucial to any thriving business. Consistent development is not only important for employee career prospects but for the bottom line of your business. Why? Because technology is always changing so it requires a commitment to consistency over the long-term.
Keeping up with the latest social media trends and committing to learning new skills over the long-term will only serve to help you stay ahead of your competition and enjoy true success for decades to come.
When it comes to keeping your staff educated, holding regular meetings and reviews on digital skills can really help to ensure everyone has what they need to succeed in their jobs. It's also a great opportunity for people to voice their concerns and any sticking point they may have.
Embracing Technology in Your Business
What would things be like in your business if you embraced technology with open arms?
Early adopters always have an advantage over the rest. Businesses that started using Google PPC and Facebook Ads when they first came out made incredible amounts of money because these platforms were so cheap at the start.
Allowing your business to embrace technology can work wonders for your bottom line.
You'll be leading the marketing strategies in your space instead of lagging behind and feeling desperate to catch up with everyone else.
Embracing technology gives businesses the opportunity to capitalise on untapped buyer markets. Sure, you can still do really well as a late adopter but if you're one of the first to start testing a marketing strategy, you're much more likely to discover wildly profitable strategies that you can use in your business.
Should You Outsource Your Social Media?
Small businesses are faced with an important choice when it comes to their marketing.
Manage their operations in-house or pay an agency to handle everything for them.
Many small businesses are required to hire someone else to do it for them as they just don't have the resources available. That said, it's important to invest in digital skills regardless of your resource circumstances.
Even having a basic understanding of digital marketing will help you decipher the industry specific jargon that's tossed around by agencies and help you find people that really know what they're talking about.
It's easy to hype up your services and promise the earth but most agencies don't deliver on their promises.
You should always perform proper due diligence before diving into any contractual commitments with an agency.
Social media marketing is an extremely powerful tool that can be used to multiply the revenue in your business. Proper education and keeping up with trends is crucial to succeeding over the long-term. As is keeping your team up to date in terms of their digital skill sets.
With the right approach, social media can be an extremely powerful asset in your business. So what are you waiting for? Get out there are learn all about social media marketing!
If you are looking to outsource your social media management to a reputable agency that understands the trend, check here.
Are there other small business social media skills gap you've observed in recent time, let's know in the comments below.