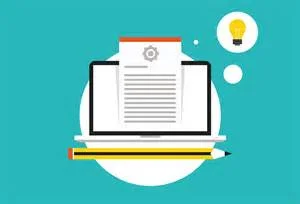 Are you considering writing your first guest post?
Maybe you've gotten as far as writing the post, but didn't follow through and reach out to the blog owner?
It's easy to let the fear stop you. We seem to be our own worst critics.
If you're ready to write your first guest post, but not sure if you have what it takes, let me help you out.
The only way to move forward is to just get started. Don't let all those guest posting myths out limit you.
Just Do It
Remember Nike's slogan, "Just Do It?" That's all it takes to write your first guest post.
I know you're scared, that's exactly how I felt when I wrote my first guest post.
When I contacted Emenike to see if I could post this post on his blog, you can bet I was scared.
I am not sure if I'll ever overcome my fear of rejection, whenever I reach out for a guest posting opportunity.
However, I know what my goals are with my blog.
My goal is to build a full-time business, that consists more of passive income. I want to be able to walk away from my freelancing business.
This is a hearty goal therefore, it's going to require me to get a little uncomfortable.
Why did you start your blog?
Is your why a big enough reason to make you get out of your comfort zone?
Nothing Great Happens If You Don't Get Uncomfortable
Maybe, you've started your blog because you want to create financial freedom. Or maybe your blog is your retirement plan?
If you haven't created a business plan for your blog, here's a great post on how to write a successful blogging business plan.
Regardless of why you started your blog, it's going to require you to get a little uncomfortable if you're serious about it.
Yes, it would be great if you could just stay on your own blog and keep pumping out content.
Maybe that's what you've been doing. How's that going for you?
Are you seeing the results you want?
If not, then maybe it's time to get a little uncomfortable. You need to start putting yourself out there so people can get to know you.
Don't worry, at first, it'll feel like all eyeballs are on you. However, once you write your first guest post, you'll see that it's not as bad as you made it out to be.
So, let me help you write your first guest post by providing you with some tips that I've learned from writing 6 guest posts.
I know that I haven't written as many guest posts as someone like Ryan Biddulph.
However, we all start our guest posting journey with our very first one.
Start Today
After you read this post, I want you to sit down and write your first guest post.
I can hear you now, you're going to say, I know I need to write some guest posts, then you're going to leave Emenike's blog and you won't get it written.
Remember, if you're struggling to get visitors, then give guest blogging a shot.
You'll be amazed at what you will learn as well as the awesome friendships that you'll make online.
Your Content Is Good Enough
Maybe you're thinking that you can't write good enough. Sure, you blog once or twice a week on your blog.
Or, maybe you are blogging daily on your blog?
It's easy to write on our own blogs. After all, we don't feel like we're being criticized by other people's visitors.
When it comes to giving our content away for guest posting, we second guess our abilities.
We tend to believe that our content is not good enough. This fear stops us from reaching out to submit our first guest post.
I know this because I've let that fear stop me several times. Heck, I still find myself second guessing my guest posting abilities.
What If No One Responds to Your Guest Request?
You might be scared that if you put yourself out there and no one responds to your email, you're going to feel like a failure.
I wish I could tell you that everyone is going to respond to you.
However, I'd be lying. I've emailed several people about guest posting opportunities sometimes I don't hear anything but crickets.
Unfortunately, that happens a lot and will continue to happen in the future.
It's just a part of building a profitable blog business.
You can't let that stop you from reaching out and asking for guest posting opportunities.
I recommend trying to make contact 3-7 days after emailing them once. If you don't hear back from them a second time, it's time to move on.
You don't want to start annoying people.
There are tons of other bloggers who will be happy to accept your guest post. In some cases too, you need to be sure you aren't making any of these annoying guest posting errors a lot of writers are fond of.
Start with the Smaller Bloggers to Guest Post
We hear it all the time that we should blog on the top blogs in our niche. I would love to get my guest post on a top blog.
In fact, I've reached out to a top blog in my niche. Guess what, I got ignored twice.
You can't expect to get featured on a top blog if no one really knows you.
Sure, some people get lucky to land these types of guest posts. Maybe, they know someone who helps them land that guest post.
However, for most of us who are just starting a blog, we're NOT going to be able to publish our a guest post on the top blogs like ShoutMeLoud.com or ProBlogger.com.
At least not until we've been blogging for a while.
If you continue putting yourself out there and networking, eventually, you'll land a guest posting opportunity on top blogs.
This doesn't mean that you can't start writing guest posts. There are other awesome bloggers who would be happy to publish your guest post. You can scan through Elvis Michael's blog, to see over 3,000 blogs that accept guest blogs in your niche.
Reach Out to One New Blogger to Guest Post on their Blog
Make it a point to just reach out to one blogger today. I know that you're scared.
My very first guest post was scary. I wrote the email and went back and forth before actually sending it.
If you need to just close your eyes and hit the send button, do it.
Once you send that outreach email, you'll realize that it was not as bad as you thought.
Write the Guest Post First
There's no right or wrong way to submit your first guest post. You can reach out to someone and tell them that you'd love to write an article for their blog or you can write the blog post first.
I personally love to write the post before reaching out to other bloggers.
You're probably thinking, what if I can't find a home for my post. If you can't find a home for your post, then you can just publish it on your own blog.
Trust me, you won't be wasting your time by writing the post first.
Even if you don't use the post on your own blog, the practice of writing will just help you improve your writing.
That said, ensure you've read through their guest posting guidelines to increase your chance of being approved.
Keep Learning to Write a Stellar Guest Post
I'll be the first to admit that I still have a lot to learn when it comes to guest blogging.
You'll realize that once you write your first guest post, you'll still have questions and concerns about whether you're doing it correctly.
I suggest that you follow other bloggers who will help you learn how to become a better guest blogger.
Just remember, you can spend all the time in the world reading tips and advice but the only way that you're going to improve and become a better guest blogger is to actually write the article and reach out to them
Don't fall into the trap of ever-learning but with zero execution, otherwise, you'll never see the benefits of guest posting.
Don't Expect Overnight Results from Guesting Posting
Once you've written your first guest post, you can't expect a flood of traffic or a ton of new subscribers especially, if you're not guest posting on a top blog.
This doesn't mean that guest posting doesn't work. Just like building a blog, it's going to take some time to get your name out there.
You can't expect to just write one guest post and see the benefits.
Nope, you're going to have to keep doing it. In fact, make it a part of your blog promotion strategy.
Instead of just focusing on driving traffic with Facebook, Pinterest or commenting on blogs like Emenike suggested when he made reference to how to make internet influencers to promote your blog, make it a point to actually write awesome content and then give it away.
But the truth is that over time it must work, after all, you see top bloggers like Ryan Biddulph who swears up and down that guest posting works. And certainly his exploits prove that.
Conclusion
Starting a blog is easy. Anyone can learn how to set up a blog.
Growing a blog is the hard part. As a blogger, it's important to learn different marketing strategies that will help us grow our blogs.
I know that it's easier to focus on Pinterest traffic. Many bloggers will say that Pinterest is their bread and butter, however, you don't want to have all your promotion strategies in one basket.
Guest posting is a great way to promote your blog. Not only that but once you start guest posting, you'll meet some awesome bloggers.
Hopefully, this post has helped you get over the fear of writing your first guest post.
Have you written your first guest post? What was your experience? Do you make guest posting a part of your blog promotion techniques?
Let me know, I'd love to know if you've gotten over your fears of guest blogging and what you did to overcome your fears.
Want to Set Up Your Own Blog?
You can use these web companies we recommend for their security and affordability:

Domain Name - Namecheap

Web Hosting - Siteground

Blog Theme 1 - MyThemeShop

Blog Theme 2 - Themeforest

Autoresponder - GetResponse