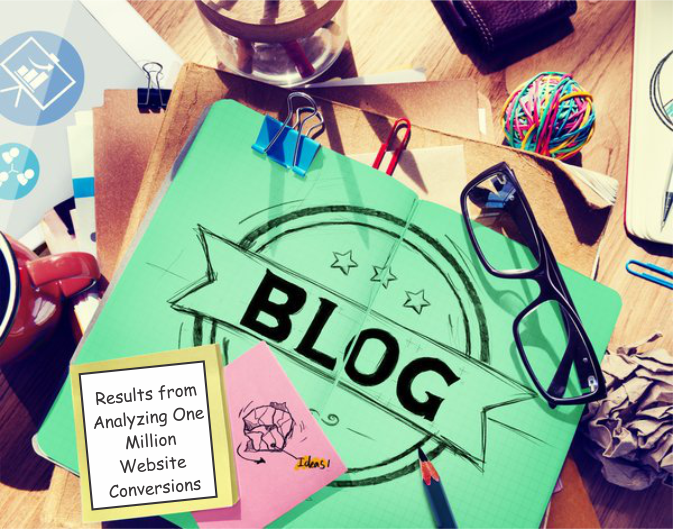 This is a guest post from Brad Shorr. He is the Director of Content Strategy at Straight North, a professional SEO company headquartered in the Chicago area, United States. With more than 25 years of sales and marketing experience, Brad has been featured in leading online publications such as Moz, Entrepreneur and Forbes.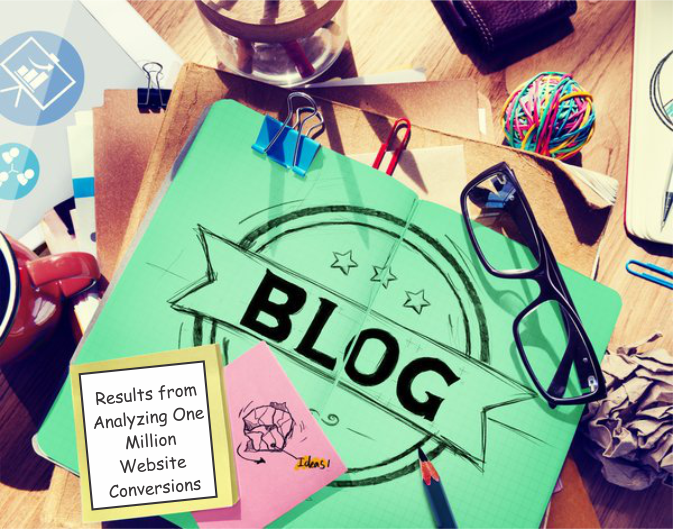 Online marketing in United States has a lot of data and a lot of theories gotten from analyzing over one million websites, but all theories are not based on data.
Here's another problem: Just because you're collecting a lot of data doesn't mean you're collecting the right data. Did it sink?
Yes, these issues cause online marketing campaigns to move sideways and backward instead of forward. And honestly, it doesn't tell well of your business. Or does it?
Several years ago we began to notice these data (you may call it, theory) issues in our campaigns.
For instance, we'd have a marketing campaign in the United States where traffic was increasing like crazy, but sales leads were flat. Or, we'd have a campaign that was producing huge increases in website form submissions, but, again, sales leads were stuck in the mud. Our assumed correlations and causations — theories — relating to traffic and conversions did not seem to be playing out as they should.
So we started collecting more data. Specifically, we began validating our sales leads, both for the agency and clients. We set up granular phone tracking to capture every phone inquiry generated by our campaigns, and we then had people listen to recordings of the inquiries. We set up more sophisticated form tracking, and had people read all submitted forms.
At this point, we've analyzed more than one million of them.
Amazing, right? Yeah.
ALSO READ: HOW TO USE COMPANY CREDIT REPORT TO GROW A SUSTAINABLE BUSINESS
Here are our findings, which may surprise you as much as they surprised us when we first started to see the patterns.
Half of Your Website Conversions Are Not Leads
Many online marketers in the United States focus on conversions rather than on sales leads, probably because Google Analytics and other platforms don't interpret form submissions; they merely record them.
However, our validation process revealed that a full 50 percent of form (and phone) conversions are something other than sales leads. The "other" bucket includes:
Auto-dialers
Customer service inquiries
Incomplete forms
Inquiries for products/services not offered
Job applicants
Personal calls
Sales solicitations
Spam
Submissions from competitors
Vendor communication
Immediately, this data suggests that any correlation possibly assumed between website conversions and sales leads is shaky at best.
A campaign with, say, 500 monthly conversions, is likely producing only about 250 sales leads. The inflated conversion numbers may delude company leadership into thinking campaigns are producing far better results than they actually are.
Garbage In, Garbage Out
When applied to campaign management, validated data is quite beneficial. If campaign tests are based on conversion data rather than validated lead data, campaign improvements may actually make campaigns worse.
Here is a quick example that is very much real life:
Without validation, a PPC campaign generates 50 conversions from Keyword A and 30 website conversions from Keyword B. The campaign manager increases emphasis on Keyword A.
With validation, we see Keyword A generates 10 sales leads and Keyword B generates 20 sales leads. The campaign manager increases emphasis on Keyword B.
Because conversion data is off by a factor of the half, operating without validation is operating in the dark.
How to Analyze Website Conversion the Right
All online marketing campaigns depend on continuous improvement, which results from skilled campaign testing.
ALSO READ: HOW TO USE CLOUD STORAGE TO BUILD A WELL-SECURED BUSINESS
If your test data is incomplete or misleading, your campaign results will be a mediocre month over month, year over year.
On the other hand, if you are capturing all phone leads and form submissions, are able to track them back to their source (e.g., your PPC campaign, a particular keyword), and you validate website conversions to isolate actual leads, your campaigns will improve more rapidly and you will be able to accurately judge campaign ROI.
Most of Your Sales Leads Come on the First Visit
Another surprising finding from our validation efforts: 85 percent of sales leads occur on the first visit to the website.
This was quite stunning, especially in the B2B lead generation realm, where many people assume visitors will return several times before deciding to reach out for contact.
This is a prime example of how a theory is easy to accept in the absence of data.
The idea that lead generation websites capture lots of leads from returning visitors (not true based on our 1 million analyzed conversions) causes a lot of companies in the United States to be very lackadaisical about website issues such as content quality, user experience (UX) and conversion rate optimization (CRO).
The fact is, however, that a lead generation website has to be every bit as good as an e-commerce website in terms of content, UX and CRO. If the visitor fails to convert on the first visit, the data says your chances of getting a conversion from him or her will drop dramatically.
How to Do Web Design Right for Easy Website Conversion
Job number one for any business in the United States with a lead generation website is to do a website audit covering content, UX and CRO issues. Areas of weakness for lead generation sites include:
A real conversion killer. Few visitors have the patience to wait, no matter how good your products and services are.
Check your site loading speed, especially if a ton of your traffic comes from the United States, use Pingdom to run a speed test of your website.
The result you will get will show you the performance grade, load time, page size, tested location, etc of your site in a few seconds.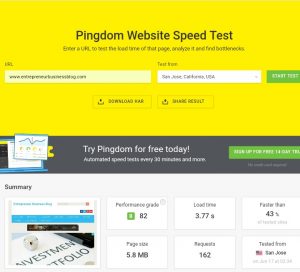 The image above is the result of the speed test carried out on this blog, Entrepreneur Business Blog as viewed from San Jose, California.
What if your site loading speed is too high? Meaning it's too slow to open…
Simple. Reduce the size of your images before uploading them, store videos in an external file and use images sparingly.
Mobile Internet access exceeds desktop, and the gap is widening. If mobile users can't find what they need quickly, they will leave.
Having known this now is the best time for your company to embrace the accelerated mobile page (AMP) plugin. If your CMS is WordPress, quickly go to dashboard >> plugin >> add new >> search (type AMP) >> result shows up and select one >> install >>  Activate.
Note: When choosing plugins, ensure you install only plugins that were recently updated and with a sizeable number of downloads and reviews.
Typical issues include inwardly focused content, jargon-riddled content, and content that is too long, too short, confusing and/or full of errors.
Don't publish lame content. Otherwise, nobody will care about your offer, no matter how good it might be.
A long-form post still matters. It shows you invested time before coming up with whatever analysis you have to present.
Visitors, especially mobile visitors, love visual content: high-quality photos, graphs, slide presentations, videos, etc.
Websites that rely on bland stock imagery put visitors to sleep. If you are not good at graphics design, you can either hire an expert on Fiverr or get a free image on Freepik.com (don't forget to give them credit for it).
"Call now" or "Talk to a sales rep" won't inspire sales leads nearly as much as saying "$200 off your first order" or something along those lines.
Putting meat, effort and imagination into your offer boosts lead production, and makes up for other shortcomings in the website design.
Get whoever is designing your website to know about that. Your offer must be something your ideal customer would need. Here's an article that will show you how to craft an irresistible offer.
In a nutshell, know who you are talking to so that you can be sure of the words that will make them pull their card for you.
Can visitors find the information they need quickly, in desktop and mobile view? For complex, content-rich sites, in particular, site navigation structure and design require expert attention. This is never a good area in which to go through the motions.
In fact, you've taken a walk in the dark if your prospects find it difficult to navigate through your site.
Conclusion
Follow the data, not your gut instincts when it comes to online marketing in the United States.
SEO, PPC, email marketing and social media marketing campaigns should strive for maximum measurability and minimum mystery. I hope the revelations from our research help bring clarity, strategic insight to your efforts — and, most importantly, more sales leads and revenue.