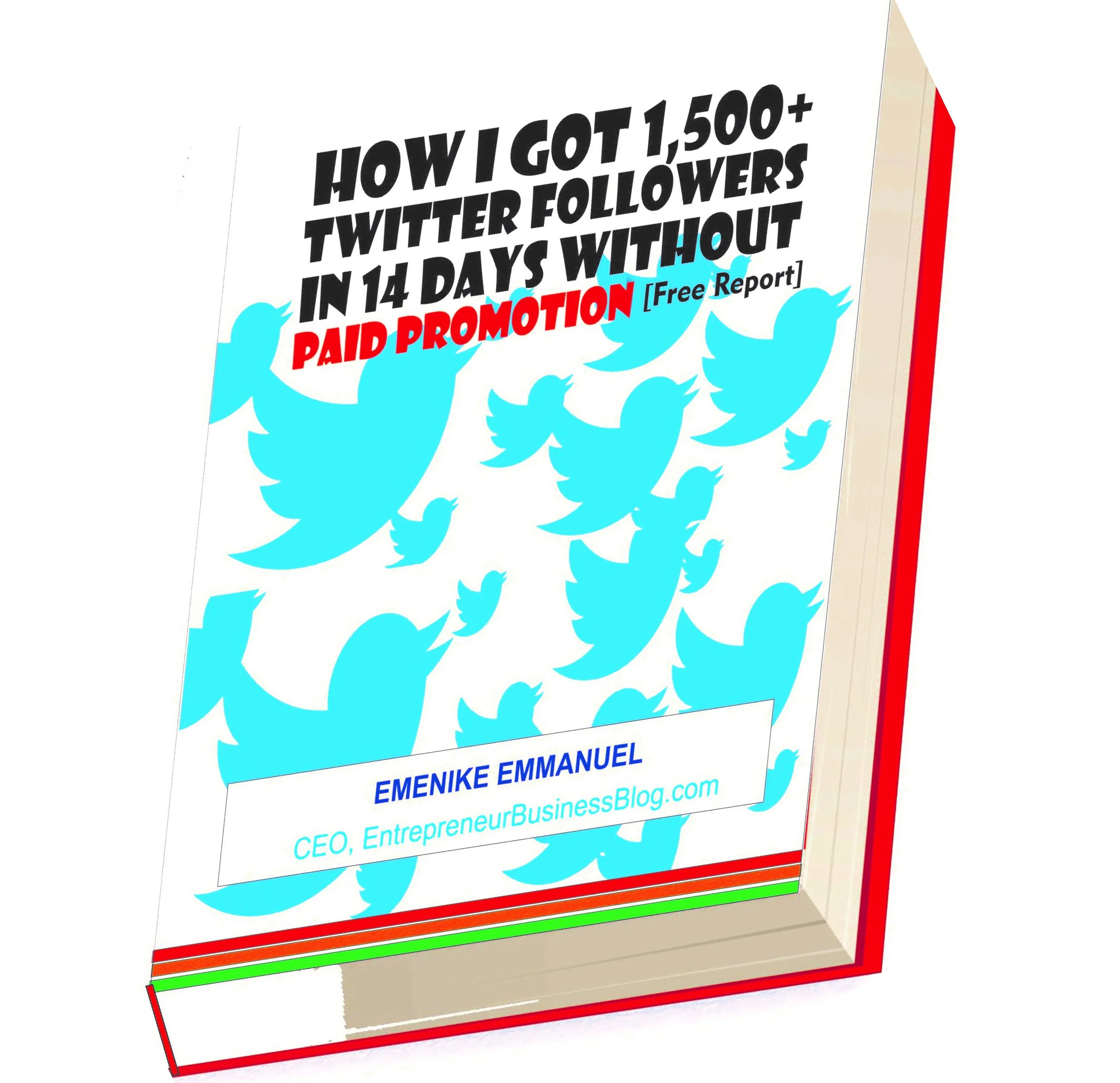 Would you like to build a fast and profitable brand without having to spend so much money on advertising?
Would you like to have large Twitter followers such that businesses aiming to reach wider audience will begin to pay you as much as $10 per tweet to promote their product on your platform? Don't you think you will start falling in love afresh with online business when businesses trying to launch their products start paying you to tweet, what others pay with their data bundle to do?
Think of what having large Twitter followers can do for you.
Think.
Are you doing that?
Okay. You know it can be very frustrating to spend multiple hours or even days to write and publish a blog post that never gets read simply because you don't have enough followers on Twitter. Trust me, it's very painful. If you aren't motivated enough you might be forced to quit writing, blogging or creating more information products. I have seen blogs fail simply because the owners were not pulling enough traffic, meaning people were not reading what they were writing.
But these things can't happen to you if you can master what it takes to growth hack your Twitter followers such that a minimum of 200 targeted audience will follow you every day.
Be Motivated to Launch Out
Precisely on August 10, 2016, John Rampton, founder of Due and a contributor to some of the world's most famous blogs like Entrepreneur, TechCrunch, BusinessInsider, Mashable etc., had over 800,000 page views on a single post in 24 hours.
Amazing, right?
Yes. It is. But that wouldn't have been possible if he hadn't large Twitter followers. A peep on his Twitter profile shows that he has over 1 million followers. What it means is that when he tweets, a potential of one million persons are likely to see it and of course may go on to click on the link attached to it.
Come to think of this, assuming you have such number of Twitter followers and you create a product of say, $31 and 15% of your followers buys it on the first week, you would have made $4.6 million in a week.
Jeezzz… Spare me this calculation, please. Why did I even go this far?
I know you must be guessing how much that money will help you achieve in life, right? Sure, me too I'm boiling here. I can't wait to lay my hands on that.
Related: Secrets to Successful Social Selling
Getting such number of Twitter followers might seem very difficult but have you tried breaking it down into daily bits? If you follow the growth hacking principles I outlined in this eBook, you can be sure of having 73,000 Twitter followers in 12 months without paid promotion at 200 new Twitter followers in a day. If you are too lazy for Africa the least you can get daily is 100 new Twitter followers per day. It's purely organic.
Can you imagine the fame that comes alongside with it when famous blogs and TVs will start requesting to interview you on their platforms, like we recently interviewed Tiffany Simpson?
Think about that for a seconds. You might possibly create new product that will go on to sell in their millions as a result of this singular effort.
I Struggled So Hard Before I Mastered It
@eBusinessRoom is not the first nor the second Twitter account I created. I had created my personal Twitter account, @EmenikeNg that I struggled so hard to build organically but all of a suddenly, I began to experience more "unfollowing" than followers. I felt like a failure but I still went ahead to create @eBusinessRoom which coincidentally is the Twitter page of this blog, EntrepreneurBusinessBlog.com.
Just to be sure I had the exact growth hacking strategies needed to achieve this level of result of having a targeted audience of 1,500+ new Twitter followers in one month (which I later achieved in 14 days) without paid promotion, I refused to accept guest post from any writer nor help from any virtual assistant until I reached my target. I wanted to prove that it is possible.
I worked very hard for this. And as I did, I continued to write down every successful and unsuccessful steps I took. I knew someone like you reading this post now (and looking forward to downloading the eBook) will need it. So I went ahead to compose the eBook.
This eBook is Worth $8 But I'm Giving It To You FREE
If I'm to sell this eBook, considering the quality of the content and the energy and time I invested to write it, I won't sell it anything less than $8.
Yes, $8 would have been the least price it will be sold it.
Guess how much I would have made in a single day…. With over 400 people already waiting to devour this eBook (they sent their email addresses waiting for the release), I would have made $2400 in a single day, excluding dollars flowing from my blog readers.
I am not giving out this eBook free because I don't need those dollars. No. I need it just like we need it but I think being a part of your success story is worth more than any amount I can make from this. My goal is to help as many individuals and corporate organizations as possible to grow a profitable business online. If you are successful, I will be successful – you will aspire to buy more of my products.
I want you to know that I care.
I want you to know that I'm interested in seeing your brand grow.
Period.
Therefore, I have gifted you with an awesome eBook that revealed everything I did to grow my Twitter followers from 0 – 1,500+ in just 14 days without paying a dime.
Do You Think It's Possible?
In case you are doubting it, stop. It's possible. I have done it and I can do it again and again. I have itemized the strategies I followed to achieve that. And you too can do it with ease.
CONTENTS
ABOUT ME
DEDICATION
ACKNOWLEDGMENT
INTRODUCTION
CHAPTER ONE
How to Condition Your Mind for Growth
CHAPTER TWO
5 Things You Can Achieve with Large Twitter Followers
CHAPTER THREE
2 Fastest Ways to Grow Your Twitter Followers with Just One or No Tweet at All
CHAPTER FOUR
Best Twitter Tools for Automation
CHAPTER FIVE
Action Steps for Growth Hacking Your Twitter Followers
BONUS
Join #NaijaSitUp Every Friday on Twitter to Grow by Interaction
PAID TRAINING
FREELANCE WRITING COACHING CLASS OPENS IN JANUARY 2017
(How to Make 6 Digit Figures Income from Freelance Writing Monthly)
For 10 days (every Friday and Saturday by 9:00am), you will have your lessons delivered to your inbox and you will also be added to a secret Facebook group where we shall continue to interact.
Cost: N10,000 ($31.7)
Account Name: Ebusinessroom Ventures
Account Number: 0098000761
Access Bank (Diamond)
After payment, send the following: Name (if different from the one on the payment slip indicate), Phone number, and "Freelance Writing Coaching Class" as the title to [email protected] . You can also contact me on Facebook.
Rush Now and Make Your Payment to Start Getting Your Pre-Training Tips and Recommendations.
Want to become a guest blogger here, check out our guidelines.