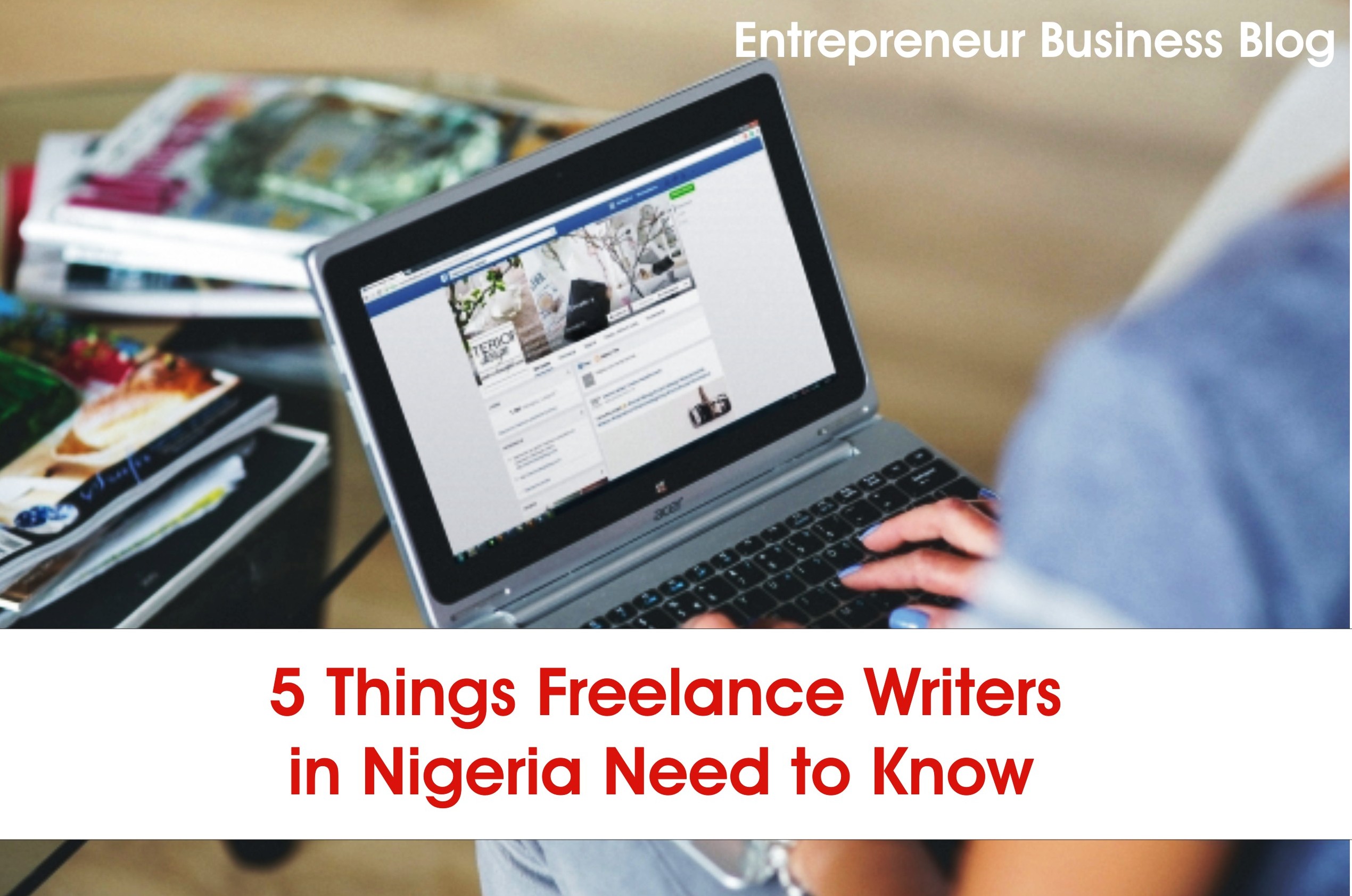 I wouldn't know why I love emphasizing how important it is that freelance writers should think like entrepreneurs.
From the outset, there were clearly no relationships between being a writer and an entrepreneur until freelance writing came into the scene. There and then writers began to see the need to reach more audience with their writings and at the same earning more than what they used to earn before when they were stuck to a particular media organization. I am of the opinion that this was a part of what made entrepreneurs to begin to consider writing as a business worth venturing into.
In today's post, I want to share with you 5 Things Everyone Who Desires to Become a Freelance Writer in Nigeria Must Know. The least any writer who master these things will earn every month is a 5-digit figure income. Having these 30 ways to make money writing will be an added value.
This article is not actually meant for fresh freelance writers alone, but for everyone. As long as you make ends meet through freelance writing or desire to do so in future, I am strongly convinced that this article will be profitable to you.
5 Things You Need to Know About Being a Freelance Writer in Nigeria
You Are Your Own Brand
As a freelance writer, you are your own brand. But it's ridiculous that most freelance writers don't know this. When you are selling your writing, you are probably selling yourself. And like Facebook will always ask in their update box, "What's on your mind," whatever content you dish out to the world, is a piece of what you've got on the inside of you. Irrespective of the platform you are writing on, your contents are pieces of your mind. If it is good, it means you are good. But if it is damn shit, of course you need not to be told.
Armed with this understanding should make you think deeply any time you sit before your computer to write.
As a freelance writer in Nigeria, here are 5 things it will take you to build your personal brand?
Get into Facebook, LinkedIn, Google+, Quora and Twitter to update your profile. Don't do it shabbily, be professional about it.
Join only the necessary groups in your niche and participate accordingly.
Edit contents and remove unprofessional images on all your social media platforms.
Search for industry-related events in your neighborhood to attend. At the event, ensure you intelligently respond to questions you think you have a wholesome knowledge in and don't be shy to ask intelligent question too.
Build your own blog.
You Determine Your Paycheck
How much you are able to make as a freelance writer in Nigeria is up to you. If you are lazy, lack professionalism and do not know how to convert readers to rabid customers, what it means is that you are going to struggle financially as a freelance writer.
Do not let anyone fool you – freelancers are the ones that determine how much they will earn. Operating from Nigeria does not make you earn less than a freelance writer in the U.S. It's a matter of determination.
Freelance writing business in Nigeria
In order to achieve your goal of writing a fat paycheck for yourself each month, here are three things you must do now, not tomorrow:
Pick up your pen and notepad.
Set a target of how much you wish to generate each month through your freelance writing skill (or any other skill you think you can freelance on).
Write down at least 50 organizations in your niche and begin to pitch them.
Nobody Tells You How You Manage Your Time
As freelance writer, you are your own boss. You choose when to work, where to work and how to work. If you think working late hours make more sense to you, good for you. Unlike what is obtainable when you are working for someone else, you are totally in control of your time. It is nobody's business how you manage your time. Unfortunately, this has become the undoing of most freelance writer.
Jobs Don't Come to You, You Go for It
I don't mean to scare you if you are new to the game. But lets put the words straight; if you don't go out to look for the job, it won't come to you.
There are two places to go hunting for a job as a freelance writer.
I hope I am not scaring you? Chill. I will explain.
Offline
To carve a niche for yourself and land the necessary gigs you need to satisfy your craving, it will be needful you go out to search for media organizations or companies that need the services of a writer. The funny aspect of this whole thing is that some of these organizations need your service as a writer but don't know they need it. Until there's a writer who can open them up to at least 10 things hiring the services of a writer can do for them, they won't know. So when you check them out offline, you might get a good number of them.
Online
Hunting a freelance writing job online is easier if you have already mastered the psychology of online entrepreneurs. Their behavior is entirely different from what you will witness when you meet the CEO of a company in their office to discuss business.
For you to catch the attention of an organization, it's sacrosanct that you do the following:
Build your personal brand.
Google the company to find out all that has been written in the past about them.
Read up all you can on the company's website (if they have any) or their social media platforms.
Identify who exactly at their management board has the responsibility of receiving mails from writers like you. Send the person a direct mail of your well-crafted pitch.
If you don't get a reply after 2 days, resend it. And if you didn't get a response from them, copy pitch and send it to the CEO.
In case you are wondering how to find their email addresses, this is what you will do:
Log on to Lusha.co and you will be able to find any email address and phone numbers of your choice. Though it is premium but there's a free version. All you need to do when you register there is to link it with the person's LinkedIn profile and the email address and phone number you are searching for will show.
As a Beginner, You Will Do Lots of Free Stuff
I know you won't like to hear this. But what's the gain hiding the truth from you? Like Comedian Emmanuella would say, "That's obvious!" Hiding this aspect from you is like trying to cover a nine month pregnancy with bare hands; no matter how hard I try, it must show. If you are new and you desire to grow faster than those that came into the business of writing before you, you must make up your mind to give out lots of free stuff.
The reasons for giving out free articles as a newbie in freelance writing include:
Experience
Contact
Reference
When you give out free articles to established media bodies in your niche you will gain writing experience, develop useful contacts and get opportunity of being a reference.
Are there some things you felt should be noted about being a freelance writer in Nigeria? Please, feel free to share them with us at the comment box. We love hearing from you. You can also help us extend this article to your friends on Facebook, Twitter and Google+.
Recommended for you
How to Know Your Freelance Writing Niche
How Freelance Writers Can Become Highly paid