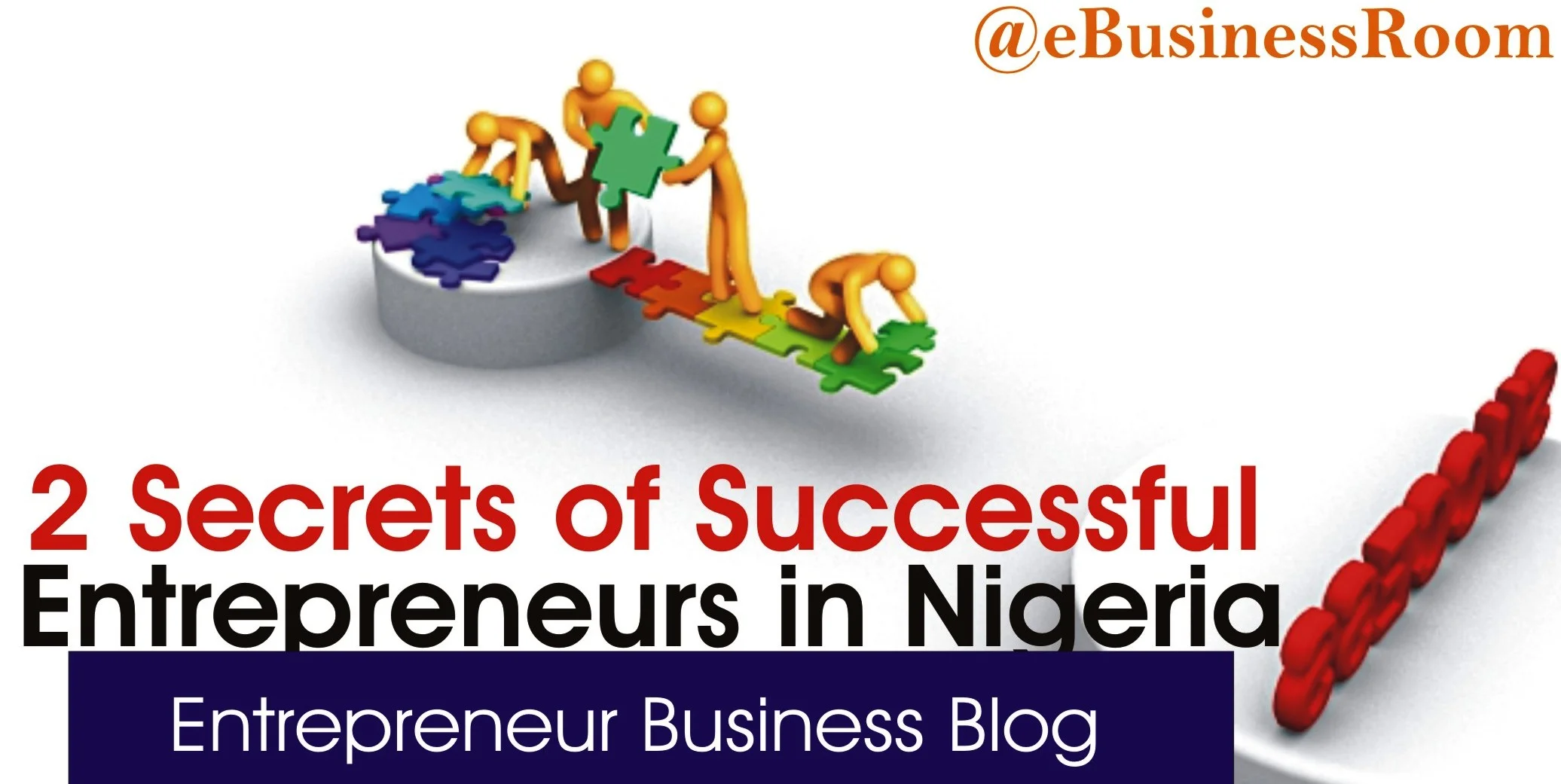 Being successful in a time of economic crunch like we have in Nigeria today is not an easy thing.
What it requires to become a successful entrepreneur goes beyond being lucky, creative and multi-skilled. Although these things are important but the truth of the matter is, if the secret to being a successful entrepreneur were any of these things, greater number of the people who aimed at success would have grabbed it with both hands. However unfortunate, they are not.
After carefully examining the lives and lifestyles of 7 billionaires, comprising of Bill Gates, Warren Buffett, Mark Zuckerberg, Jack Ma, Jan Koum, Richard Branson and Elon Musk, I came to realize that there are basically two simple secrets that made them as extremely successful as they are today.
On the other hand, I also discovered that every unsuccessful entrepreneur I know care less about these two things.
Before I begin to unveil, discuss and analyze these secrets, let me make you a promise. And what exactly is the promise? "The day you begin to apply these secrets I am about to share with you today will mark the beginning of your billion dollar business."
Shoo! Could this be true, you may ask? Yes. I will explain.
Since I discovered these simple secrets, my business has never been the same again. I made more in profit than I ever made in four months as an employee.
Sorry if I pulled your legs too far. Here they are:
Secret #1: Start
Enough of "I will, I will."
This is probably the 3rd year since you got the idea to walk the path of becoming an entrepreneur. But until now, what has happened? You've been postponing it.
I may not be far from the truth if I say that you are waiting to get the next month's salary because to you, the money you have at the moment won't be enough.
Please my dear, spare me those excuses. If nothing is done, you might still continue to procrastinate and never go out in pursue of your goals.
Contrary to what you are thinking, lack of money is not the reason why you have not started your business.
It may sound odd but that's just the hard truth. I have been there before. I used to think that lack of money was the reason while I have not built my dream blog, Entrepreneur Business Blog, but you know what, each month, I made more expenses than it would have taken me to build this blog. And do you know the most painful part of it? Naira equivalent to dollar kept rising until it became nearly twice what I would have spent if I did it at the point I caught the vision.
Can you relate to that?
Successful entrepreneurs who desire to rise in their business don't wait till tomorrow before they invest in a business idea they know will profit them at the long run. Like Billionaire Warren Buffett will always say, "Investors of today does profit from yesterday's growth." So don't wait. Act.
As one who has enjoyed a bit of the glory of what being an entrepreneur is, here are some of my strategies for getting started:
Get a mentor.
Interview at least 10 successful people you know (probably already in the business you want to do).
Read books, listen to tapes and watch videos recommended or produced by your role models.
Develop urgency by setting a deadline. Be committed to follow it.
Don't be afraid to fail. Failure is a proof of progress.
I wish to continue on that but let's move on.
Secret #2: Continuity
I'd say it that it takes double of the effort, commitment, energy and creativity it took to get a task started than it will take to continue it.
Looking critically into your journey as an entrepreneur, you will agree with me that there were innovative ideas you kick-started in the past and for no concrete reasons, those ideas are now obsolete, abandoned and forgotten.
Why did you quit? Why didn't you hold on to see what would have become of those great visions you had about it?
Please, don't bother answering that.
I'm aware there are cases where you just have to give it up and quit for good reasons, but it doesn't happen anyhow. There are steps to take. I also know you will have pretty excuses to justify yourself. It's normal and natural for unsuccessful people to give excuses to justify why they are where they are. And you what, the more they try to give excuse, the more they accuse themselves of irresponsibility.
Take a walk to the home or business environment of anyone you think is successful today, you will observe that they have continuity mentality. They are committed, consistent and creative in doing that which gives them utmost satisfaction and profit. If you find them among writers, you will observe that they are always busy researching and churning quality contents. If you find them among sales experts, you will discover that they are always busy developing packages that will help their clients, mostly entrepreneurs to save and make more money. They don't quit halfway.
On the contrary, unsuccessful people do not have the temerity, chutzpah and audacity to further a task. Before you count one, two, three years, "vim," they are off, abandoning a billion-dollar idea they once fantasized on for something else in their comfort zone.
Personally, I have 7 ideas feeding on my 24 hours. Each of them competes to have a greater percentage of my limited time.
But in order not to join the bandwagon of unsuccessful entrepreneurs, I will explain to you what I do. I strongly believe if you apply them, you will gain unimaginable success in your business life.
Here they are:
Discuss the idea with people who can hold you accountable.
Get a team. (We analysed how you can get a great dream team for your startup)
Schedule your activities.
Don't borrow your time to people that don't deserve it.
Learn to be grateful for your little success.
These 5 things might look simple but without them, our weekly online conference, #NaijaSitUp which takes place on our Facebook group, The Excellent Entrepreneurs' Network every Friday by 5pm (GMT+1) would have become a forgotten ideology. But by simply applying them, no matter how busy I am, I still find time to develop the vision and even more.
So if I may ask, what's holding you? Man, lose thyself.
Got more secrets that have helped you in business which you would love to share with us or question? Drop them at the comment box. And please, don't forget to spread this lesson to your friends on Facebook, Twitter, Whatsapp, Twitter and Google+.